"Banning books gives us silence when we need speech. It closes our ears when we need to listen. It makes us blind when we need sight."
-Stephen Chbosky
It's Banned Books Week– an annual event that brings together the entire book community in shared celebration of the freedom to read and fight censorship. And we can't think of a better time to countdown the top 5 books most-challenged books from 2014 than RIGHT NOW. The list is compiled by the American Library Association's Office for Intellectual Freedom, or OIF, and their received reports from libraries, schools, and the media on attempts to ban books in communities across the country.
Check out the top 5 and then be sure to get yourself a copy…because you can! 🙂

#5 
It's Perfectly Normal
by Robie Harris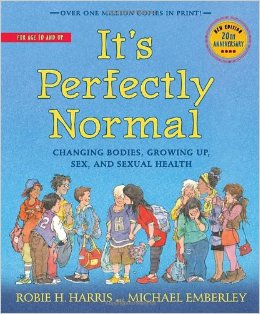 For two decades, this universally acclaimed book on sexuality has been the most trusted and accessible resource for kids, parents, teachers, librarians, and anyone else who cares about the well-being of tweens and teens. It's Perfectly Normal offers young people the information they need — now more than ever — to make responsible decisions and stay healthy. (via Candlewick Press)
Why is it on the list? Nudity, sex education, sexually explicit, unsuited to age group. Additional reasons: "alleges it child pornography" (according to ala.org)
#4
The Bluest Eye 
by Toni Morrison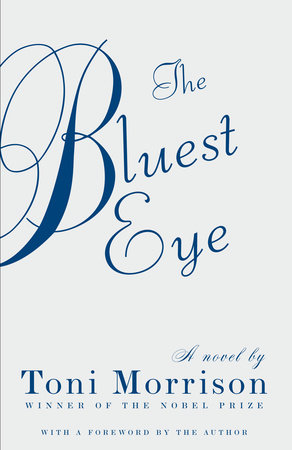 Pecola Breedlove, a young black girl, prays every day for beauty. Mocked by other children for the dark skin, curly hair, and brown eyes that set her apart, she yearns for normalcy, for the blond hair and blue eyes that she believes will allow her to finally fit in.Yet as her dream grows more fervent, her life slowly starts to disintegrate in the face of adversity and strife. A powerful examination of our obsession with beauty and conformity, Toni Morrison's virtuosic first novel asks powerful questions about race, class, and gender with the subtlety and grace that have always characterized her writing. (via Vintage International, Penguin Random House)
Why is it on the list? Sexually explicit, unsuited for age group. Additional reasons: "contains controversial issues"(according to ala.org)
#3
And Tango Makes Three
by Justin Richardson and Peter Parnell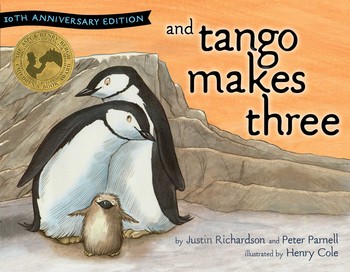 The bestselling, heartwarming true story of two penguins who create a nontraditional family. At the penguin house at the Central Park Zoo, two penguins named Roy and Silo were a little bit different from the others. But their desire for a family was the same. And with the help of a kindly zookeeper, Roy and Silo get the chance to welcome a baby penguin of their very own. (via Simon and Schuster)
Why is it on the list? Anti-family, homosexuality, political viewpoint, religious viewpoint, unsuited for age group. Additional reasons: "promotes the homosexual agenda"(according to ala.org)
#2
Persepolis
by Marjane Satrapi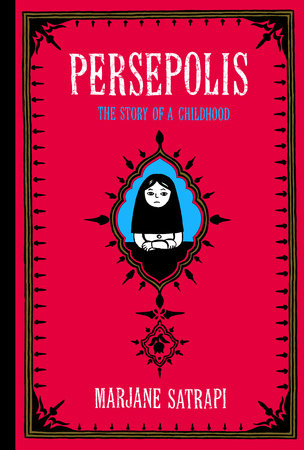 Wise, funny, and heartbreaking, Persepolis is Marjane Satrapi's memoir of growing up in Iran during the Islamic Revolution. In powerful black-and-white comic strip images, Satrapi tells the story of her life in Tehran from ages six to fourteen, years that saw the overthrow of the Shah's regime, the triumph of the Islamic Revolution, and the devastating effects of war with Iraq. The intelligent and outspoken only child of committed Marxists and the great-granddaughter of one of Iran's last emperors, Marjane bears witness to a childhood uniquely entwined with the history of her country. (via Penguin Random House)
Why is it on the list? gambling, offensive language, political viewpoint. Additional reasons: "politically, racially, and socially offensive," "graphic depictions"(according to ala.org)
#1
The Absolutely True Diary of a Part-Time Indian
by Sherman Alexie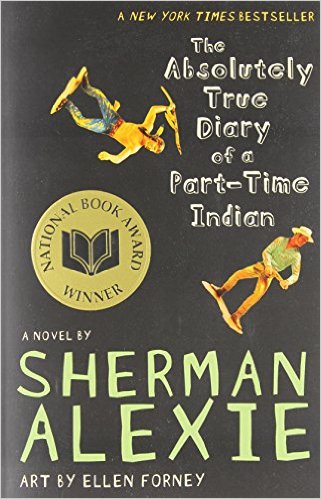 Bestselling author Sherman Alexie tells the story of Junior, a budding cartoonist growing up on the Spokane Indian Reservation. Determined to take his future into his own hands, Junior leaves his troubled school on the rez to attend an all-white farm town high school where the only other Indian is the school mascot. (via Hachette Book Group)
Why is it on the list? anti-family, cultural insensitivity, drugs/alcohol/smoking, gambling, offensive language, sex education, sexually explicit, unsuited for age group, violence. Additional reasons: "depictions of bullying" (according to ala.org)
Visit here for the entire list of 2014's most-challenged books!