In honor of Black History Month, we're remembering and highlighting a few of the incredible African American trailblazers in books and publishing – including one of the great minds behind Black History Month itself.
Carter G. Woodson
The origins of Black History Month can be traced all the way back to 1915, to author and historian Carter G. Woodson. The son of two former slaves, Woodson grew up working as a sharecropper and a miner to help support his family. He didn't enter high school until he was seventeen years old, but was able to breeze through in only two years before going on to earn his bachelor's, master's, and doctorate degrees! Woodson was just the second African American Ph.D. graduate from Harvard, after W.E.B. Du Bois. He would go on to write over a dozen books on black history, including the highly influential Mis-Education of the Negro.
In 1915, Woodson founded The Association for the Study of Negro Life and History to highlight the achievements of African Americans and inspire future generations. In 1926 he began promoting Negro History Week, choosing February to build on existing celebrations of Abraham Lincoln and Frederick Douglass. Decades later, in 1968-69, black students and teachers at Kent State University worked to expand the celebration from a week to a month, and the university made the change in 1970. Finally, in 1976, President Gerald Ford officially designated February as Black History Month.
Jupiter Hammon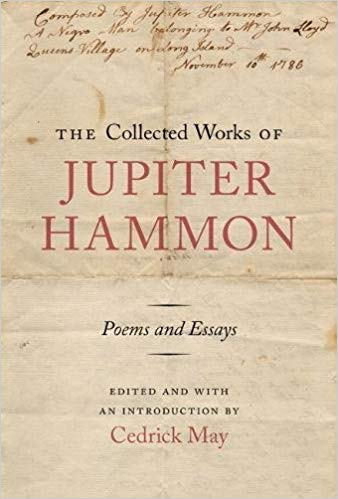 The first published African American poet, Jupiter Hammon lived and died in slavery. His poems were primarily religious in nature; his first published work, An Evening Thought: Salvation by Christ, with Penetential Cries, was written on Christmas Day 1760. You can read the full poem here. In addition to poetry, Hammon also wrote several essays, primarily directed towards other slaves.
Though sometimes criticized for his themes of obedience and submission, his works were also widely used by abolitionist groups to promote their cause. In his final "Address to the Negroes of the State of New York" he emphasized: "That liberty is a great thing we may know from our own feelings, and we may likewise Judge so from the conduct of the white-people, in the late war. How much money has been spent, and how many lives has been lost, to defend their liberty. I must say that I have hoped that God would open their eyes, when they were so much engaged for liberty, to think of the state of the poor blacks…" Today, Hammon is considered one of the founders of African American literature.
Phillis Wheatley
Phillis Wheatley, the first African American woman to publish a book of poetry, was brought to America as a child in 1761 after being kidnapped by slave traders. She quickly mastered English and learned to read and write; soon she was also reading Greek and Latin. By age fourteen she had written her first poem. Her influences included Alexander Pope and Thomas Gray, and her poems were often written as elegies. Her elegy for a minister named George Whitefield brought her international fame. In 1773 Wheatley traveled to London with the son of her owners, where she published her book: Poems on Various Subjects, Religious and Moral. Later that year she was emancipated.
Among the great minds of the day impressed by Phillis Wheatley's prowess were John Hancock, Voltaire, and George Washington.
William Wells Brown
Widely considered America's first black novelist, travel writer, and playwright, William Wells Brown was born a slave in 1814 and kept illiterate until his escape in 1834. After being aided by some Quakers in Ohio, Brown moved to New York where he became a conductor on the Underground Railroad and spoke about his experiences as a slave to the Western New York Anti-Slavery Society.
Brown published his autobiography, Narrative of William W. Brown, a Fugitive Slave, in 1847. An instant bestseller, the book was so successful that he spent the next several years delivering speeches all across Europe. This experience led him to publish the first travel book by an African American author, Three Years in Europe. A year later Brown became the first African American to publish a novel. Clotel; or, the President's Daughter told the story of Thomas Jefferson's black daughters and granddaughters. In 1858, his play The Escape; or, A Leap for Freedom also made him the first published African American playwright!
Gwendolyn Brooks
Born in Kansas in 1917 and raised in Chicago, Gwendolyn Brooks began publishing poetry by the time she was thirteen years old. She went on to write more than 20 books of poems, including Annie Allen, published in 1949. In 1950 Annie Allen was awarded the Pulitzer Prize, making Brooks the first African American Pulitzer winner.
Her poetry often focused on black urban life and social justice issues. She often visited local schools, prisons, and hospitals to encourage local writers. Brooks's many lifetime achievements include being named poet laureate for the state of Illinois, and becoming the first black female consultant in poetry to the Library of Congress.
Ralph Ellison
With his groundbreaking novel Invisible Man, in 1953 Ralph Ellison became the first African American to receive the National Book Award. Born in Oklahoma in 1914, Ellison originally wanted to become a musician. After meeting author Richard Wright in New York, however, Ellison began writing and publishing short stories and essays.
After serving as a cook in the US Merchant Marine during WWII, Ellison began writing Invisible Man in the late 1940s. The book was successful commercially as well as critically, staying on the bestseller list for 16 weeks. Inspired by jazz music and poets like T.S. Eliot, Invisible Man uses an experimental, modernist style to tackle issues of race, police brutality, education, and much more. It remains one of the great American novels of all time.
Toni Morrison
Among her long list of extraordinary accomplishments, Toni Morrison was the first African American to win the Nobel Prize in Literature in 1993. Best known for her empathetic, complex, and emotional portraits of black characters, Morrison has also been awarded the Pulitzer Prize and the National Book Critics Circle Award.
After earning her B.A. from Howard University and an M.A. from Cornell, she published her first novel The Bluest Eye in 1970. Most recently, God Help The Child was named a New York Times Notable Book in 2015. Morrison has also published a play, a series of children's stories, and several non-fiction works.
Carla Hayden
When she was sworn in as the 14th Librarian of Congress in 2014, Carla Hayden became the first African American woman to hold the position. In fact, she was the first person who wasn't a white man.
Born in 1952, Hayden earned a BA in Political Science from Roosevelt University, as well as both an M.A. and Ph.D. from the University of Chicago's Graduate Library School. She served as head of Baltimore's library system for more than 20 years, and has been an active champion of freedom of information and expansion of digital resources for library users.
In an interview with The Guardian after her appointment as LoC, Hayden said, "I've talked for years and cited how slaves were forbidden to read, you could get your hand chopped off, or people who taught slaves to read were punished, that's Fredrick Douglass's thing. . . So to have an African American heading up the world's largest library is not quite an oxymoron, but it speaks to the history.