There's one children's book in particular that has stayed with me: R.L. Stine's  The Abominable Snowman of Pasadena. I can honestly say I think this is the only "horror book" I have ever read. I suppose it has stayed deep in my terrified 9 year old mind for so long that I haven't picked up another one since! And while I may not be one to curl up at night and devour a scary story, I know plenty of people who love the genre. In honor of Halloween this month, we're sharing ways we can help you reach horror readers! 
Find horror & occult readers who are currently visiting, or are frequent visitors, of places like:
Indie Bookstores

Barnes and Noble

Airports, Subways & Train Stations

Amazon Books

Haunted Houses

Movie Theaters 
              & more!
We can also reach them while they are attending Book Expo America, New York City's Horror-Fi Expo, Texas Frightmare Weekend, World Horror Convention, Arcana, and more! And once they leave, we continue to serve the ad to them where they go next – whether they are browsing their phone in the subway, on their desktop at work the next day, or reading up on the newest season of American Horror Story on Vulture.

Niche Audience Targeting.
Using our parallel genre and lexicon targeting, we can serve your ads to people browsing content featuring related keywords. Whether it's urban gothic, dark fantasy, or occult horror, we can target readers with a strong interest in big name authors like Stephen King, Bram Stoker, Mylo Carbia, Anne Rice, Dean Koontz, Clive Barker, and more! 

We can also reach avid viewers / fans of TV shows like:
American Horror Story
The Haunting of Hill House 
The Terror 
Castle Rock 
Stranger Things 
Castlevania
The Walking Dead
And those with a strong interest in movies like:
Slender Man 
A Quiet Place
Halloween 
The Nun 
Hereditary 
The First Purge 
Insidious: The Last Key 
The Cloverfield Paradox
IT, Pet Semetary, The Shining, and other Stephen King films
In addition to reaching horror fans and book buyers, we can layer in lots of other cool related interests and activities like:
Strong interest in horror video games

Fans of the occult & paranormal

Horror movie buffs 

Searching for haunted houses online!
Watches horror movies in the theater
Strong interest in Shudder

SyFy viewers 

Binge watches horror TV 

Kindle eBook and Nook shoppers
              & more!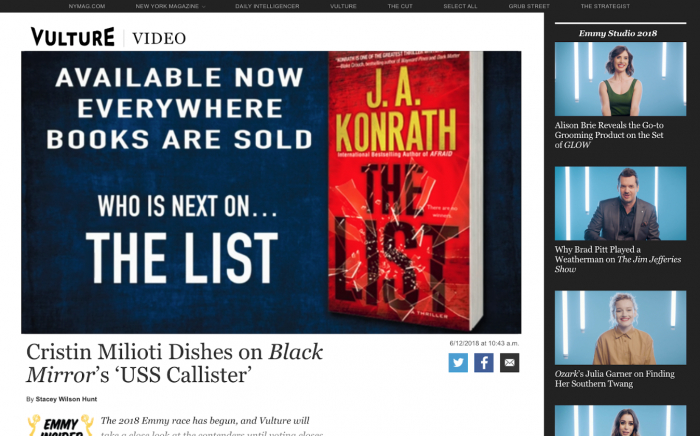 Site Targeting.
Ads reach your custom audience on top-tier sites and apps like io9, Rolling Stone, AV Club, Cinemablend, Thrillist, The Huffington Post, NY Times, Variety, E! Weekly, Nerdist, Paste Magazine, Bustle, Den of Geek, Vulture and many more! Plus, we can target readers visiting niche horror sites like Bloody Disgusting, Dread Central, iHorror, and Reddit's r/horror.
So if you've got a book in mind for this spooky season, shoot me an email and we'll get started on planning the perfect campaign to reach horror readers –> marybeth@adbiblio.com.