I'm currently in a very Sci-Fi / Fantasy mood. Next week I'll be heading to NYCC in my new "Never Forget Barb" Stranger Things T-Shirt (pictured below). I just started binging Maniac on Netflix (so weird, but so good). And this week I finished the magical YA debut Children of Blood and Bone!

This genre has never been hotter. It seems like every week a new Sci-Fi or Fantasy book, movie, or TV show debuts. And it's good – because fans like me continue to want more and more. We can all let our geek flag fly. We love getting lost in other worlds, and a big part of that comes from getting our hands on new and exciting books, whether it's a new YA dystopian, Sci-Fi thriller, or debut comic book. But it's tough for nerds like me to keep track of what's out there. And for publishers – this presents the challenge of getting your title seen, and making it stick. 

That's where AdBiblio can help! In honor of NYCC next week, I'm sharing the best ways we can help you reach Sci-Fi / Fantasy / Comic book fans.
Here's how…

Proximity Targeting.

You've probably heard me go on and on about this product, but only because it's really awesome. This cutting edge technology allows us to serve ads to Sci-Fi and Fantasy enthusiasts who are currently visiting, or are frequent visitors, of places like:
Comic book stores

Best Buy

Indie bookstores

Barnes & Noble

Movie theaters

GameStop

Arcades
               & more!
Want to get in people's heads while they are browsing their phones at Sci-Fi and Fantasy conventions? We can do that too! We can serve ads to attendees at San Diego Comic Con, Dragon Con, New York Comic Con, and more! And once they leave, we continue to serve the ad to them where they go next – whether they are browsing their phone in bed, on their desktop at work the next day, or reading up on the newest Marvel movie on sites like io9 and The Mary Sue.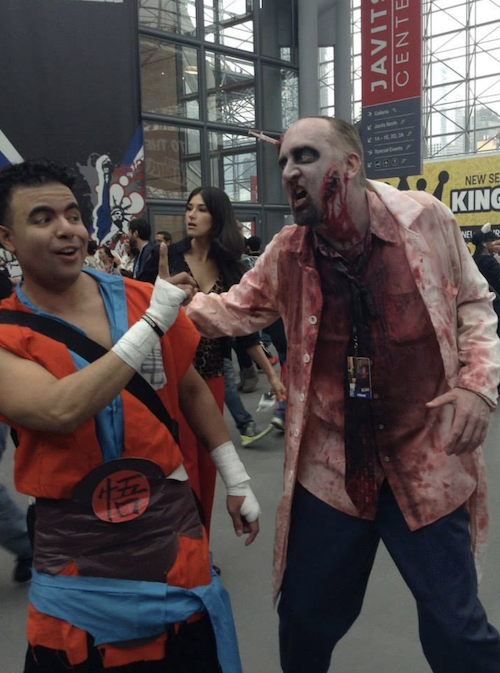 Niche Targeting.
We love to use our parallel genre and lexicon targeting to serve your ads to readers with similar tastes. Whether it's a hot new YA fantasy, can't-put-down Science Fiction thriller, or the latest graphic novel, we can target readers with a strong interest in big name authors like George R.R. Martin, Neil Gaiman, Brandon Sanderson, J.K. Rowling, Stephen King, Ernest Cline, Margaret Atwood and more.
We can also reach people who are avid viewers / fans of TV shows like:
Game of Thrones

The Handmaid's Tale

Black Mirror

Agents of S.H.I.E.L.D.

Westworld
Jessica Jones
The Walking Dead

And those with a strong interest in this year's top movies like:
Avengers: Infinity War

Black Panther

Venom

The Darkest Minds

Solo: A Star Wars Story

Fantastic Beasts: The Crimes of Grindelwald

Aquaman

Alita: Battle Angel
               & more!

If it's hardcore comics fans you're after, we can reach fans of this year's best-selling comic books like Dark Nights Metal, Justice League, and Venom, as well as those with a strong interest in people like Stan Lee, Frank Miller, and Jack Kirby.
Other cool targeting includes:
Sci-fi and fantasy readers and book buyers
Comic book fanatics
SyFy viewers
Heavy gamers
Cosplay enthusiasts
RPG gamers
               & more!
Ads reach your custom audience on top-tier sites and apps like io9, Cinemablend, Rolling Stone, NY Times, Den of Geek, The Mary Sue, AV Club, Hypable, IGN, Mashable, Sci-Fi Stream, and more!
So if you're ready to geek out, shoot me an email and we'll get started on planning the perfect proposal –> marybeth@adbiblio.com. Looking forward to seeing many of you next week!