Meet Marley Dias. She might only be 13 years old, but her resume is already pretty impressive – including being an inspiring author, public speaker, activist, and one of Forbes' "30 under 30".  It seems like there is nothing this powerhouse girl cannot do – and we were beyond thrilled to be a part of promoting her new book published by Scholastic, Marley Dias Gets It Done: And So Can You!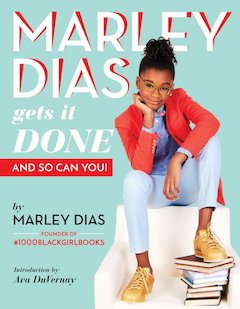 In November of 2015, Dias made headlines by calling public attention to the lack of diversity in children's literature. She decided to start a book drive, #1000BlackGirlBooks, bringing more attention to literature featuring black female protagonists. The drive features books in which black girls are the main characters. She set a goal of receiving 1,000 books and – in just a few months –more than 9,000 books were collected!
In her book, the teen social activist speaks to kids about her passion for making our world a better place. Drawing on her own experience, Dias explores activism, social justice, volunteerism, equity and inclusion, and using social media for good, all the while focusing on the importance of literacy and diversity. We're so inspired by her! The book also includes an introduction from Academy Award-nominated filmmaker Ava Duvernay (of A Wrinkle in Time!) and features praise from Hillary Clinton, Ellen DeGeneres, and Melissa Harris-Perry – just to name a few.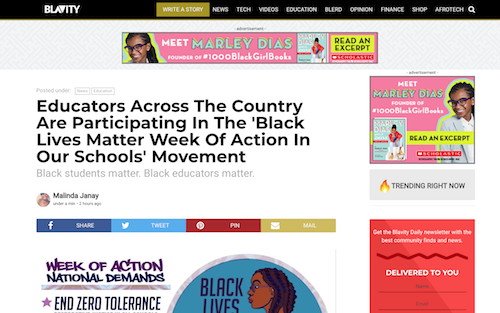 For this campaign, we knew we wanted to reach those that could put this book in the hands of young people: parents, grandparents, teachers (with an emphasis on English teachers) and librarians. Parents of young and pre-teen children engaged most with the ads, at a .26% CTR, with African American parents finishing at a strong .24% CTR. The ad was served to those with a strong interest in social justice, feminism, activism, and literature, as well as NPR listeners, children's book buyers and those with a strong interest in parallel titles like Brown Girl Dreaming by Jacqueline Woodson, President of the Whole Fifth Grade by Sherri Winston, and P.S. Be Eleven by Rita Williams – all children's books featuring a black female protagonist and written by women of color.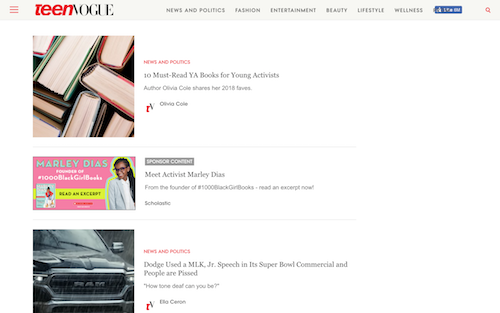 Site targeting focused heavily on publications like Bustle, Hello Giggles, Elle, and Teen Vogue that have written articles praising Dias. Sites like The Root, Thought Catalog, Blavity, NY Times, Buzzfeed, and Marie Claire were great additional outlets for serving the ads to the target audience. We also utilized our lexicon targeting to serve the ad alongside keywords relating to the book  – like #1000BlackGirlBooks, teen activism, Ava Duvernay, social justice, and more. Both native and banner ads were included, with banners finishing at an overall .12% and native ending with a strong .22% CTR!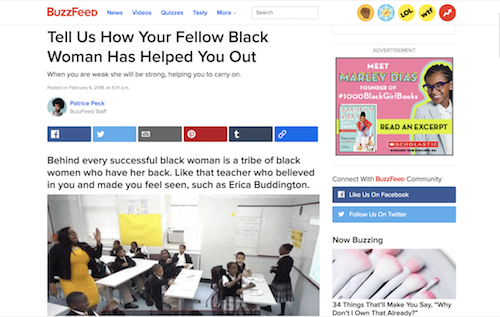 Thank you Scholastic, for letting us be a part of sharing this awesome book! If you have a young person in your life, you can pick up a copy here! And if you have a children's or middle grade book you're looking to promote, you know where to find me – marybeth@adbiblio.com!