Here's what Nicola Yoon, #1 New York Times bestselling author of Everything, Everything, has to say about Adam Silvera's History is All You Left Me:  "This book will make you cry, think, and then cry some more."
Hmm…a YA book that will make you cry and cry? SIGN. ME. UP. I'm a huge fan of tearing up with a good YA read, especially those that take me back to my extreme emotions of my teenage years. So when Soho Teen came to us looking to target this emotional teen read from Silvera, I was excited to meet with the team to plan an awesome campaign.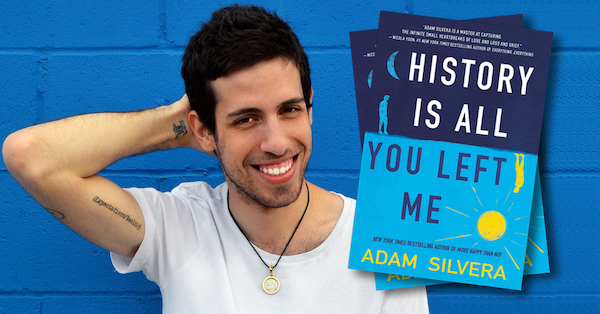 History is All You Left Me is Adam Silvera's second YA novel, following his popular 2015 debut More Happy Than Not.  The novel follows Griffin, who is mourning the sudden death of his first love and ex-boyfriend, Theo. Even though they both moved on from each other, he always thought they might eventually come back to each other. And the only person who  understands the grief he is going through? Theo's new boyfriend, Jackson. As the two being to open up to each other, Griffin also begins losing himself in his obsessive compulsions and destructive choices, and the secrets he's been keeping. If he is ever to rebuild his future, he must first confront his history, every last heartbreaking piece in the puzzle of his life. Becky Albertalli, author of Simon Vs. The Homo Sapiens Agenda, calls it "Sweetly devastating, passionately honest, and breathtakingly human." E! Weekly says, "Silvera captures the agony of first love in an inclusive, bracingly emotional context." In other words, grab your tissues. It's going to be an emotional rollercoaster ride.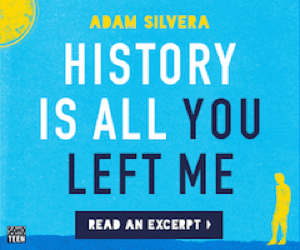 We've been reaching contemporary YA fans for a while now, so we immediately knew the main traits we wanted to target, including YA readers, fans of coming-of-age books, and those with a strong interest in teen romance television and movies. On top of this, we added a strong interest in LGBT movies, books and television. And with the recent release and rave reviews of Love, Simon and Call Me By Your Name, they were the perfect add on to our parallel genre targeting, along with other YA favorites like The Perks of Being a Wallflower by Stephen Chbosky and Every Day by David Levithan. We also loved that Soho Press included a portrait of Adam Silvera in the native creative, which added a really personal touch for readers!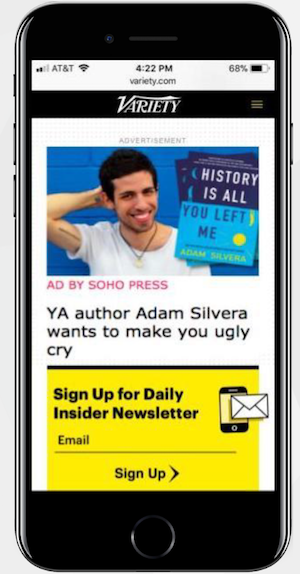 The campaign included a high impact approach of our top performing native ad mixed with traditional banner ads, which ran on many of the top sites the client was hoping to reach, including Bustle, Elite Daily, Buzzfeed, and Teen Vogue, as well as other relevant sites like OUT, Advocate, Thought Catalog, Rookie Mag, and Variety. Overall, readers with an additional interest in celebrities and reading entertainment news performed best, especially on sites like ET Online with a .34% CTR, LA Weekly with a .34% CTR, Variety with a .26% CTR, and Cosmopolitan with a .19% CTR.! Overall, the campaign finished with an impressive CTR of .36%!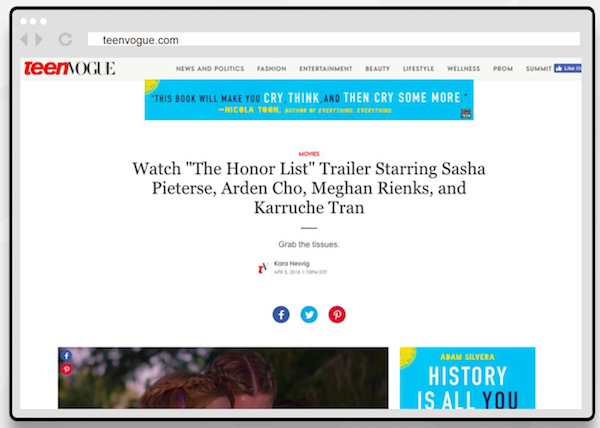 The praise for History is All You Left Me has been wide-spread, with positive reviews from Bustle, PASTE Magazine, TIME,  Kirkus Reviews, and more! If you're ready for #allthefeels, you can pick up your copy here. And if you've got a YA book ready to promote, let's chat ––> marybeth@adbiblio.com !