The more books I can devour, the better – which is why I'm a big audiobook fan! Being able to "read" while I'm running outside or driving my car has been a complete game changer. In a two part series, I'll be highlighting how we helped Penguin Random House Audio reach niche Audible listeners and Audiobook buyers for the bestseller My Name is Lucy Barton by Elizabeth Strout and the YA hit The Gravity of Us by Phil Stamper.

First up, Lucy Barton!
Named one of the best books of the year by The New York Times Book Review, My Name is Lucy Barton is an extraordinary novel by Elizabeth Strout, the Pulitzer Prize-winning author of Olive Kitteridge. Told in a powerful narrative from the main character Lucy, the book details how a simple hospital visit illuminates the complicated relationship between mother and daughter. The Boston Globe calls it "A quiet, sublimely merciful contemporary novel about love, yearning, and resilience in a family damaged beyond words." The story has even moved from book to broadway, with Laura Linney starring in the one woman show!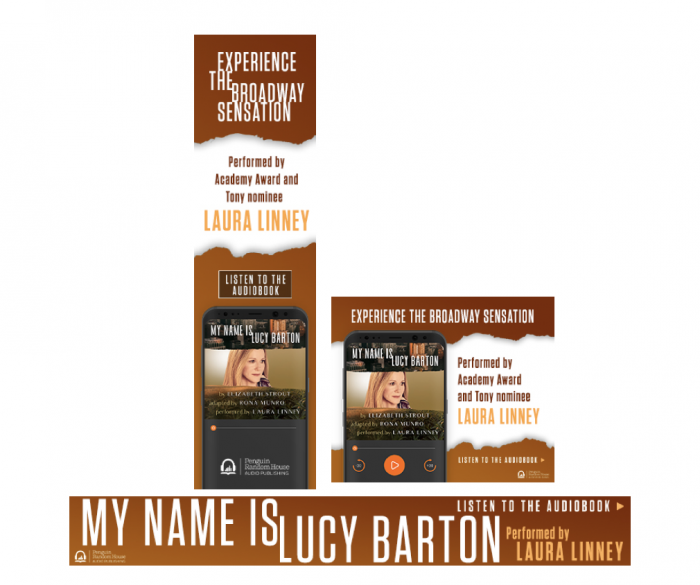 The base of the campaign included audiobook buyers and Audible listeners. And because the story really puts a focus on mother-daughter relationships, we targeted a variety of demographics like "trendy moms" and "single moms," as well as women in general. We also layered in fiction readers, avid book readers, book club members, and those who read love and relationship content online. With the show on Broadway, the client hoped to include a theater aspect, so we also targeted readers with interests in theater, musicals, and/or broadway, as well as relevant keywords like book to broadway, book-to-stage adaptation, and, Laura Linney (which aligned perfectly since the ads featured her!). Comp authors included Ann Patchett, Jojo Moyes, Jodi Picoult, and more, and additional keywords featured phrases like Pulitzer Prize audiobooks, women's fiction audiobooks, audiobook bestsellers, and audiobooks for moms.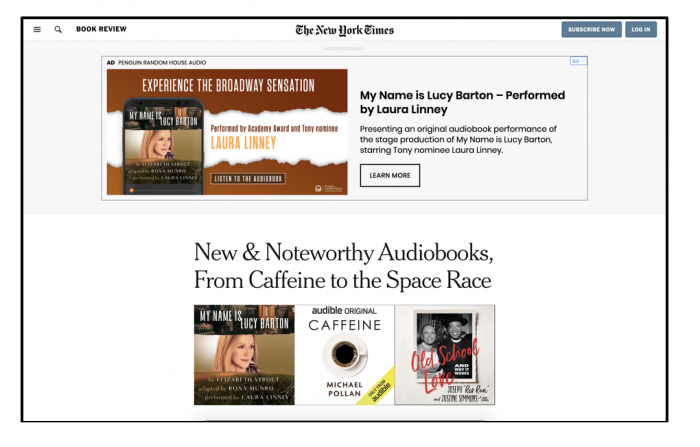 The campaign included our classic mix of native and banner ads, and finished at a .15% CTR overall. The ads ran on top relevant sites including Playbill, Broadway World, Bustle, and Cafe Mom, and resonated particularly well with audiences on Huffington Post (.39% CTR), US Weekly (.35%), and Buzzfeed (.30%). As it turns out, the ads truly did pique the interest of broadway and theater buffs (.28% CTR!), as well as book club members (.26%), and bestselling book buyers (.23%). Among the different mom categories we targeted, the ads performed best with single moms (.22%), followed by "trendy" moms (.19%), New moms (.18%) and Big-city Moms (.18%). Another fun fact: people on mobile devices engaged more with the ads at a .21% CTR, versus .09% on desktop and .17% on tablets.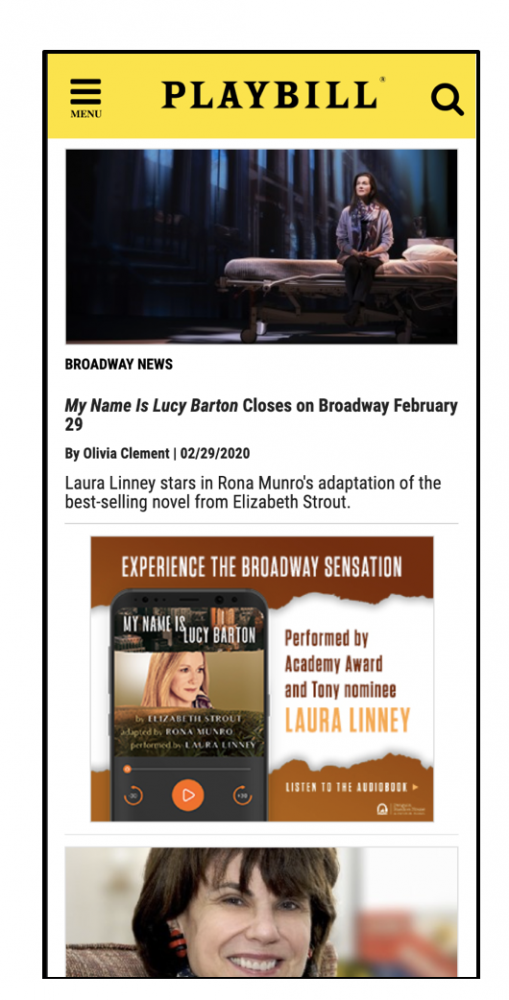 You can start listening to the fierce novel My Name is Lucy Barton right now — you can find it here! And if you've got an audiobook to promote, I'm here to help! Send me a message anytime – marybeth@adbiblio.com.

Stay tuned for part 2 next week where I share more about The Gravity of Us!