Welcome to part two! I recently shared how we helped Algonquin Books find ideal readers for their featured fiction campaign. Now, it's time to change gears and talk nonfiction! In addition to the summer fiction, we also helped Algonquin Books reach niche readers for three of their unforgettable memoirs. Each of these stories will make you simultaneously laugh, cry and think deeply.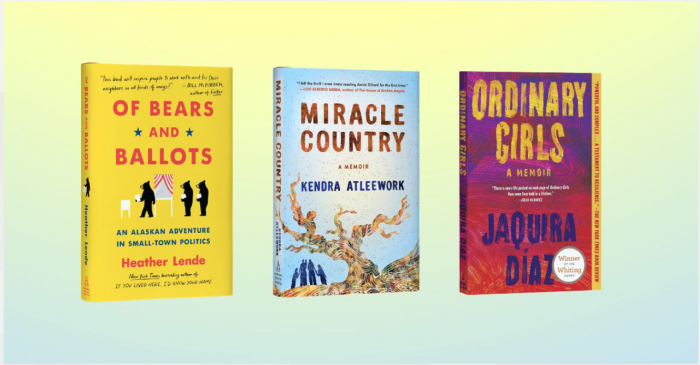 Perfect for our troubling times, Of Bears and Ballots by Heather Lende is an inspirational and quirky look at small town politics in Alaska. The Los Angeles Times describes Lende as "part Annie Dillard, part Anne Lamott"! Miracle Country by Kendra Atleework is the perfect read for fans of authors like Cheryl Strayed, and is "a moving and unforgettable memoir of flight and return, emptiness and bounty, the realities of a harsh and changing climate, and the true meaning of home." And finally, one of my favorites – Ordinary Girls by Jaquira Díaz. Díaz shares the difficult but hopeful coming of age story of growing up in housing projects in Puerto Rico and Miami. Julia Alvarez says, "There is more life packed on each page of Ordinary Girls than some lives hold in a lifetime."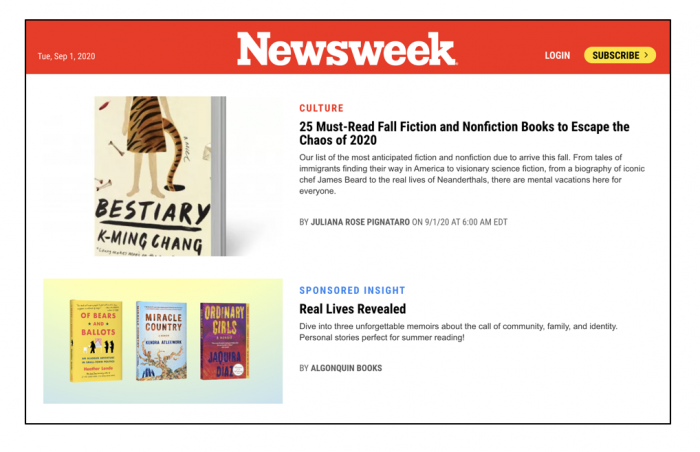 Avid nonfiction readers and book buyers were the base of our targeting, and traits included book club members, those with a strong interest in biographies, and documentary viewers. We also included several niche traits geared towards each title– for instance, those with a strong interest in politics (Of Bears and Ballots) and those with a strong interest in climate change and global warming (Miracle Country). Comp authors included popular women in the memoir category, like Cheryl Strayed, Rebecca Solnit, Tara Westover, Glennon Doyle, Jesmyn Ward and Carmen Maria Machado, as well as relevant keywords like bestselling memoirs, most anticipated nonfiction, nature memoir, and nonfiction book club!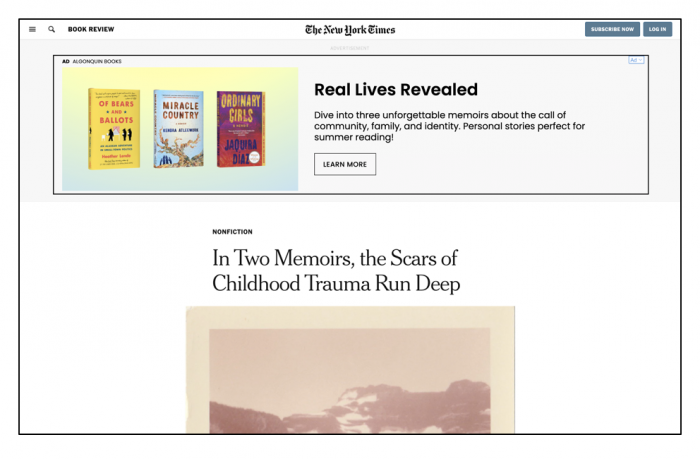 The campaign included our popular native ad and, similar to their fiction summer ad, featured each of three book covers. The ads finished overall at a .26% CTR, and did particularly well with avid nonfiction readers and book buyers – 0.46% CTR, those with a strong interest in biographies – 0.36% CTR, and those with a strong interest in climate change & global warming – 0.34% CTR! The ads were featured on top sites including Newsweek, NY Times, The Guardian, Oprah Mag, Bustle, Washington Post, Book Club Chat, Real Simple, The New Yorker, and more!
I highly recommend getting your hands on one of these memoirs ASAP — you can find links to each book here – Of Bears and Ballots, Miracle Country, and Ordinary Girls. And if you've got a campaign to launch, you know where to find me — marybeth@adbiblio.com.