Children's graphic novels and comics are having a big moment, and we're here for it! It thrills us that authors like Dan Santat are getting even the most reluctant young readers excited about books. We loved using our targeted book advertising to help Scholastic reach parents, librarians and more for Santat's adventurous new graphic novel The Aquanaut!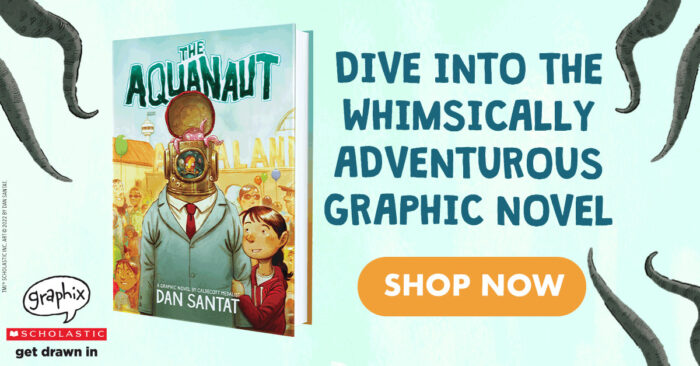 Santat is a Caldecott Medal-winning author and illustrator known for his whimsical charm, and he brings the same fun energy with Sophia and her friends in the The Aquanaut. Sophia spends her days wandering around the marine theme park Aqualand, which was created by her uncle and her lost-at-sea dad. But everything changes when an "aquanaut" enters the park and she meets four fabulous and funny sea creatures! Turns out, Aqualand is not at all what it seems. Santat's illustrations bring to life a hilarious but heartfelt story that will keep young readers turning page after page. Kirkus Reviews says, "The art in this graphic tale is something special… Santat's vividly expressive visuals are, even more than usual, riveting."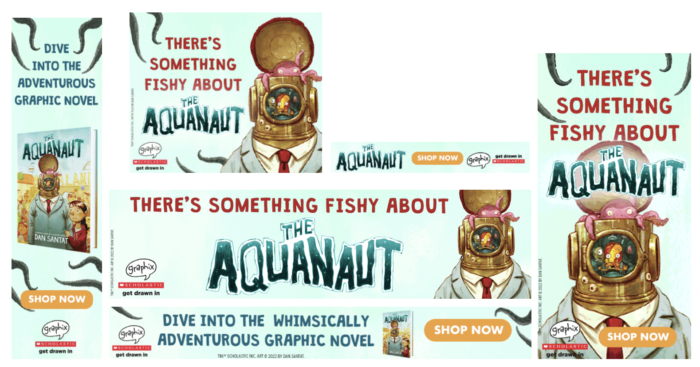 The base of this book advertising campaign included parents of children ages 8-12, as well as grandparents, librarians and school librarians. On top of this, we layered in additional traits such as children's book readers and buyers, middle grade gift shoppers, comic book and graphic novel enthusiasts, Amazon book shoppers, parenting blog readers, and children's TV and movie viewers. We also reached those with an interest in comps like Lincoln Pierce, Jeff Kinney, Jennifer L. Holm, Kayla Miller, Dana Simpson, Dav Pilkey, and Lemony Snicket, and articles with keywords like middle grade books, middle grade comics, funny graphic novels, for young readers, and tween fiction.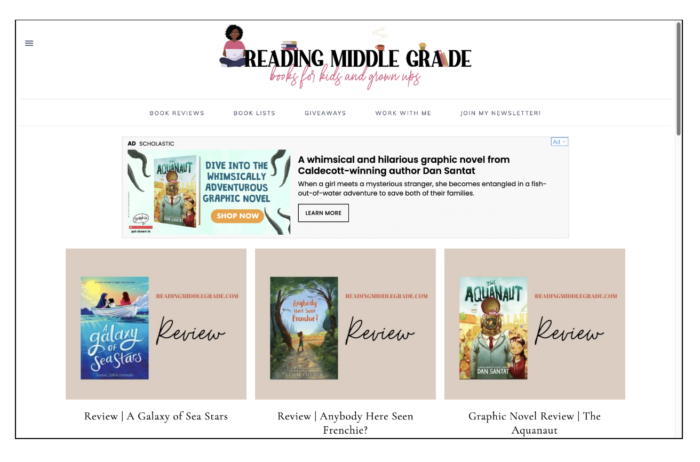 The campaign included our classic mix of native and banner ads, and finished at a .22% CTR! The ads ran on top sites including Reading Middle Grade, Fatherly, Imagination Soup, Geek Dad, Huffington Post, Scary Mommy, PBS, Geek Mom, NY Times, and USA Today, and did best with children's TV and movie viewers (.61% CTR), children's book readers and buyers (.54% CTR), and librarians (.52% CTR).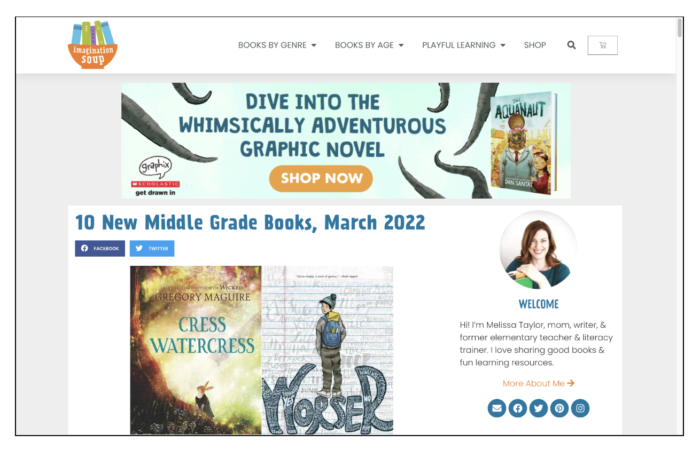 For all the whimsical young readers in your life, you can pick up your copy of the The Aquanaut here! And if you're ready to spread the word about your graphic novel or comic book, we've got you covered. You can find me at marybeth@adbiblio.com!
Want to read more? Check out more book advertising case studies here!