There's something enticing about sitting down with a good novel and a glass or two of red wine (maybe its just me?). And it's even better when the book transports you to the enchanting hills of the Chianti region of Italy. Murder, mystery, wine, and Italian food…what could be a more delicious literary combination?! AdBiblio book advertising loved helping Soho Press spread the word about The Bitter Taste of Murder by Camilla Trinchieri, and this Tuscan treat was a big hit with readers!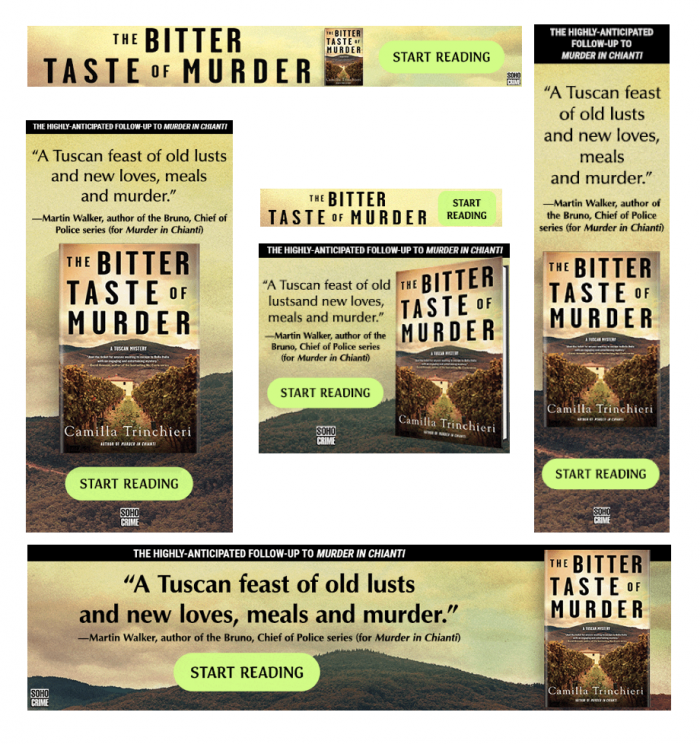 The Bitter Taste of Murder, the second novel in the The Tuscan Mysteries series, follows ex-NYPD detective Nico Doyle as he investigates the murder of a high profile wine critic. Kirkus Reviews says, "Scandal and murder rock a rustic Italian town. Luckily, a Big Apple sleuth is there to set things right . . . Nico's greatest challenge becomes distinguishing between truth and gossip, of which there is no shortage . . . Death toll aside, readers will want to stay in Trinchieri's charming village as long as possible." Before you launch into this one, we would suggest grabbing Murder in Chianti, the first novel in the series (spoiler alert: there's also lots of wine and murder in this one too! woo hoo!)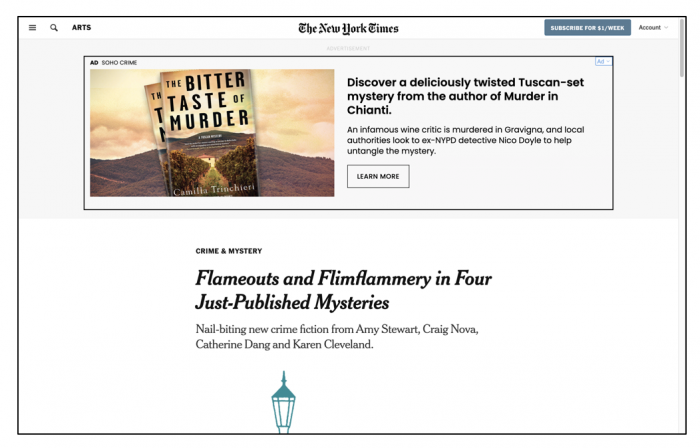 The base of the campaign included mystery, thriller and suspense readers, as well as avid fiction readers. On top of this, we targeted bestselling book buyers, book club members, readers who watch mystery, thriller and suspense tv shows/films, NPR listeners, Goodreads users, literary influencers, and more. And since the novel is set in Tuscany with an emphasis on food, we also targeted readers with a strong interest in Italy and Italian cuisine, and (of course) wine enthusiasts! Comps included popular mystery authors like Martin Walker, Donna Leon, Lisa Scottoline, Cara Black, Andrea Camilleri, Mark Pryor, Ann Cleeves, Jacqueline Winspear, and Louise Penny, and keywords included terms and phrases like Italian mysteries, Italian thrillers, books that take place in Italy, suspenseful books, cozy mystery, and detective books.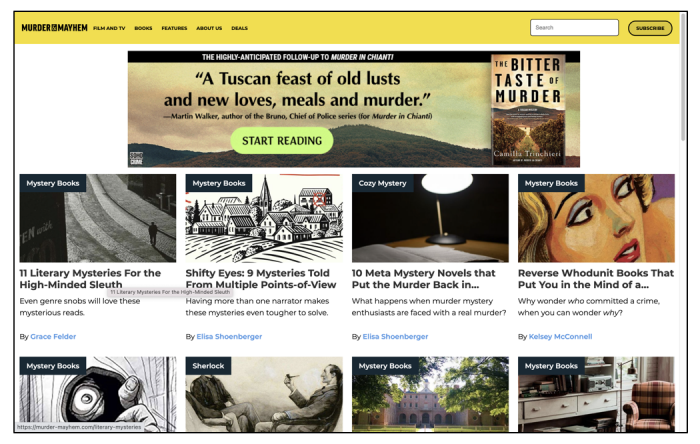 The campaign featured a mix of our native and banner ads, and finished at a strong .28% CTR! The ads ran on top sites including NY Times, Murder & Mayhem, Bustle, Goodreads, Vulture, The Guardian, Buzzfeed, Paste Magazine, Huffington Post, and more, and did best with our AdBiblio read alike audience – 0.63% CTR, bestselling book buyers – 0.46% CTR, and mystery, thriller & suspense readers – 0.39% CTR!
If you're looking for your next mystery read with a glass of vino, look no further than The Bitter Taste of Murder. You can pick up your copy here, and your copy of Murder in Chianti here! And if you're ready to set up your next campaign, you know where to find me – marybeth@adbiblio.com!
Want to read more? Check out more book advertising case studies here!