Baseball Hall of Famer Jackie Robinson once said, "A life is not important except in the impact it has on other lives." In 42 Today: Jackie Robinson and His Legacy, we get an in depth look at the important life of Robinson himself, both on and off the field. We were thrilled to help NYU Press spread the word about this essay compilation exploring the legendary baseball icon!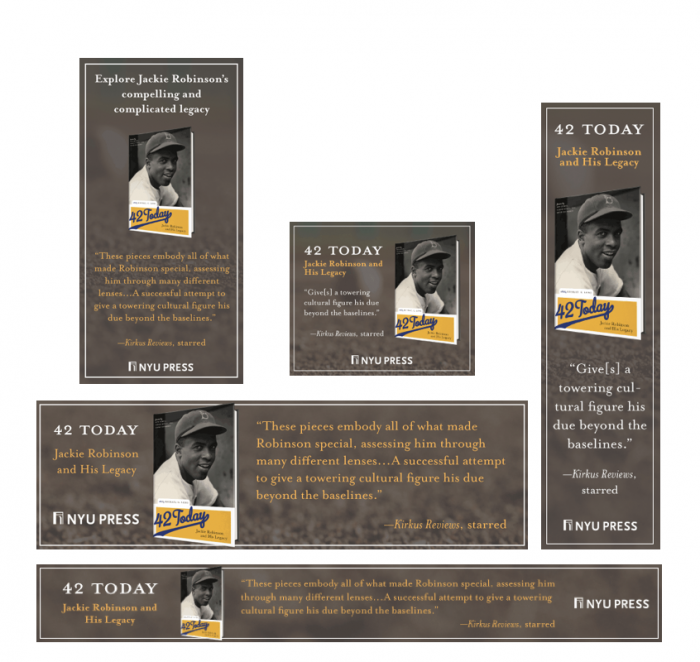 On April 15, 1947, as first baseman for the Brooklyn Dodgers, Jackie Robinson made history as the first African American to integrate Major League Baseball. In 42 Today, readers get an in depth look at how Robinson's career with the Dodgers — and his activism— helped set the course for the Civil Rights movement. Theroot.com says, "Juxtaposing events in the sports world from the '40s to now, 42 Today recalls Robinson's legacy and establishes how he paved a way for future civil rights activism, from Black Lives Matter to Colin Kaepernick."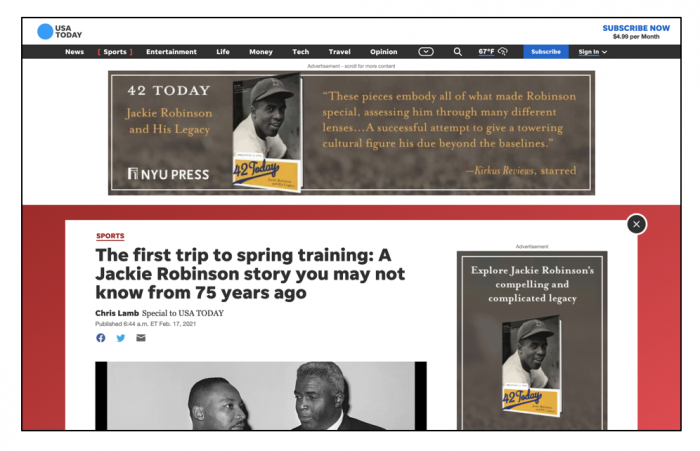 The core target audience for the campaign were baseball fanatics and sports books readers. On top of this, we layered in traits like MLB fans, Mets / Yankees / Dodgers fans, documentary viewers, those with a strong interest in Civil Rights, biography readers, bestselling book buyers, and more. Comp titles included similar books like Lou Gehrig: The Lost Memoir by Alan D. Gaf, The Soul of Baseball: A Road Trip Through Buck O'Neil's America by Joe Posnanski, and, of course, I Never Had It Made by Jackie Robinson himself. Keywords included phrases like Jackie Robinson, Brooklyn Dodgers, Dodgers history, Jackie Robinson's legacy, sports and segregation, MLB history, and athletes and activism.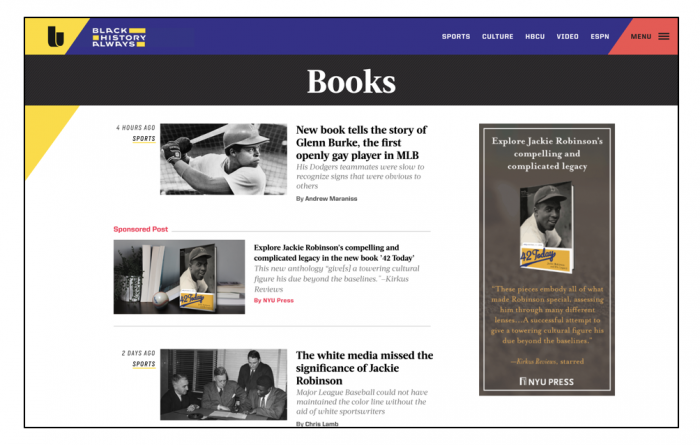 The campaign included a mix of our popular native and banners, and finished at a strong .31% CTR (side note: we loved that the native image included the book on a shelf with a baseball)! The ads ran on top sites including The Undefeated, MLB, USA Today, Biography, Huffington Post, Bleacher Report, ESPN, NBC Sports, SB Nation, and more. The book resonated strongly with our AdBiblio read alike audience – 0.93% CTR(!), MLB fanatics – 0.51% CTR, and those with a strong interest in civil rights – 0.35% CTR!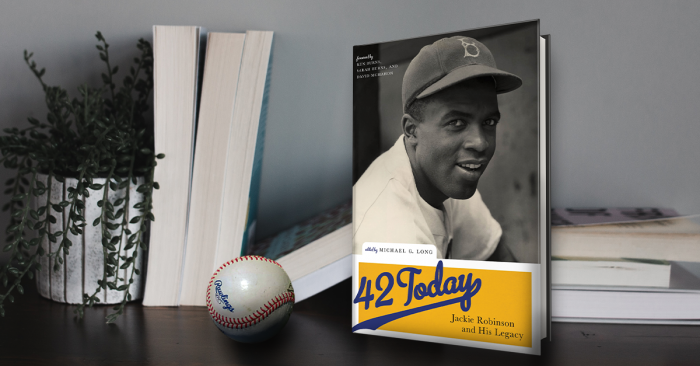 If you have a baseball fanatic in your life (or someone who can appreciate an inspirational read), you can get your copy of 42 Today here. And if you're ready for your next campaign, you can reach me at marybeth@adbiblio.com!