If you're deciding whether or not to read An American Marriage by Tayari Jones, just ask Oprah. In addition to being chosen as a Book Club 2018 pick by the Queen reader herself, An American Marriage is a New York Times Instant Bestseller and holds rave reviews from widespread publications including People, The Atlantic and Nylon. Not to mention Oprah is planning on turning it into a movie! When we first got our hands on Tayari Jones's debut, we knew (like Oprah) that it was something special, so we were beyond excited when Algonquin asked for help in keeping the excitement alive for this book!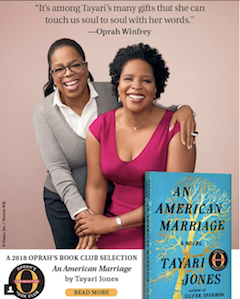 An American Marriage follows newlyweds Celestial and Roy as they begin their lives together in newlywed bliss. That is, until Roy is arrested and sentenced to twelve years for a crime Celestial knows he didn't commit. Though she's independent, Celeste finds herself taking comfort in Andre, her childhood friend, and best man at their wedding. Five years pass, and Roy's conviction is suddenly overturned. When he returns to Atlanta ready to resume their life together, will everything be the same? According to NPR, the idea for An American Marriage came to Jones one day in an Atlanta mall. She said, "I overheard a couple arguing. He looked fine, but she looked great. And she said to him, 'Roy, you know you wouldn't have waited on me for seven years.' And he said, 'I don't know what you're talking about; this wouldn't have happened to you in the first place!'"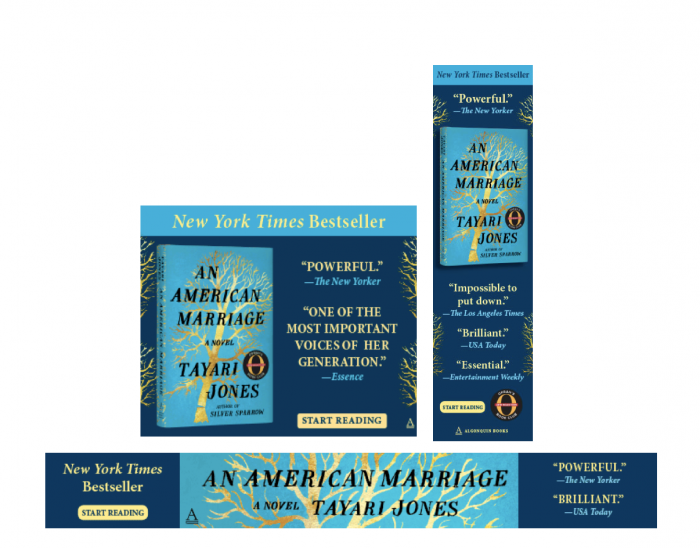 For this campaign, we targeted women with a strong interest in women's fiction and literary fiction, with a test group layered in reaching African American women. Next, we added relevant traits like NPR listeners, bestselling fiction buyers, Oprah fans, and those who read love and relationship content online (the book is, at its core, a love story.) We also loved the idea of including our parallel genre targeting to reach authors like Celeste Ng, Ann Patchett, Meg Wolitzer, and Colson Whitehead. And with so many critics praising the book, we knew we wanted to hit these readers while browsing on sites like Refinery 29, Jezebel, Essence, Blavity, The Cut, For Harriet, People, Madame Noire, NY Times, and – as you might have guessed – Oprah! While the ads were running, Jenna Bush Hager from the Today show picked up the book as her "Favorite Thing", so Algonquin hoped we could work our 'quick turn around magic' to adjust the targeting mid run to include The Today Show site and viewers for heavy targeting – which we were happy to do! We also edited the native copy to reflect Hager's quote about the book, and even managed to grab a tear sheet image from the Today!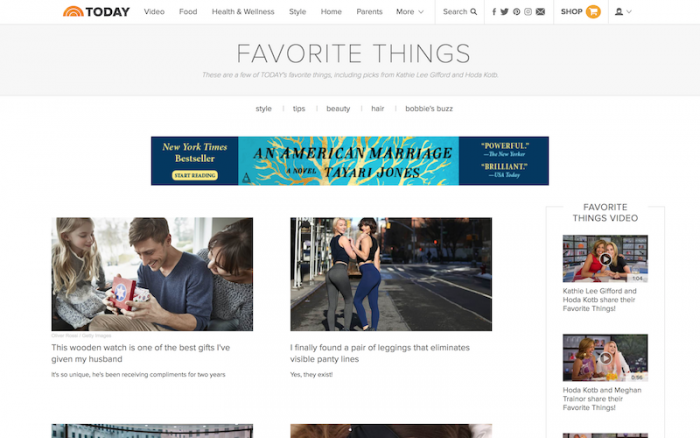 The campaign included both native and banner ads, and ended with a really strong overall CTR of .43%. We loved the combo approach of being able to cross device target readers with the native ad once we showed them a banner ad or two, and vice versa! Our test group of African American women readers proved correct, as this particular group highly interacted with the ad. Other top traits included Oprah fans (.33% CTR) and avid book readers and buyers (.23% cTR). Fun find: Teachers (.22% CTR) had a strong interest in the book!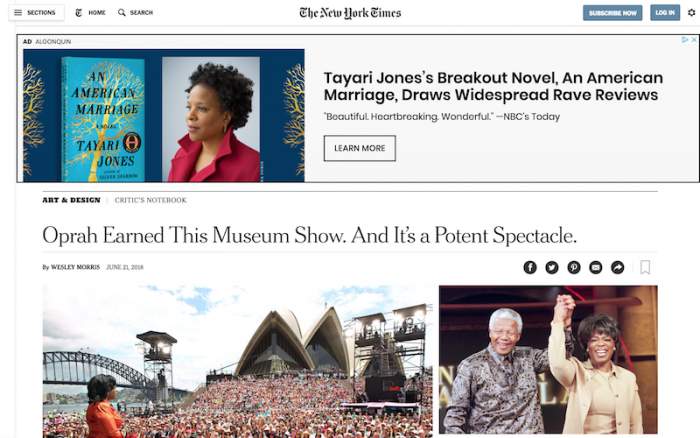 You'll definitely want to read An American Marriage before Oprah turns it into a masterpiece on screen. You can pick up the book here! And if you have a book that everyone is talkin' about, we can help keep that conversation going. Shoot me an email here and we'll get started! –> marybeth@adbiblio.com.