Let me shout it louder for the people in the back…TRAILS NOT SCALES! Connecting with nature is something everyone should be able to do, no matter their size or ability. In Fat Girls Hiking: An Inclusive Guide to Getting Outdoors at Any Size or Ability, author Summer Michaud-Skog creates a safe space for people of all body types to find joy in the outdoors. We were thrilled to promote such an empowering and inclusive book!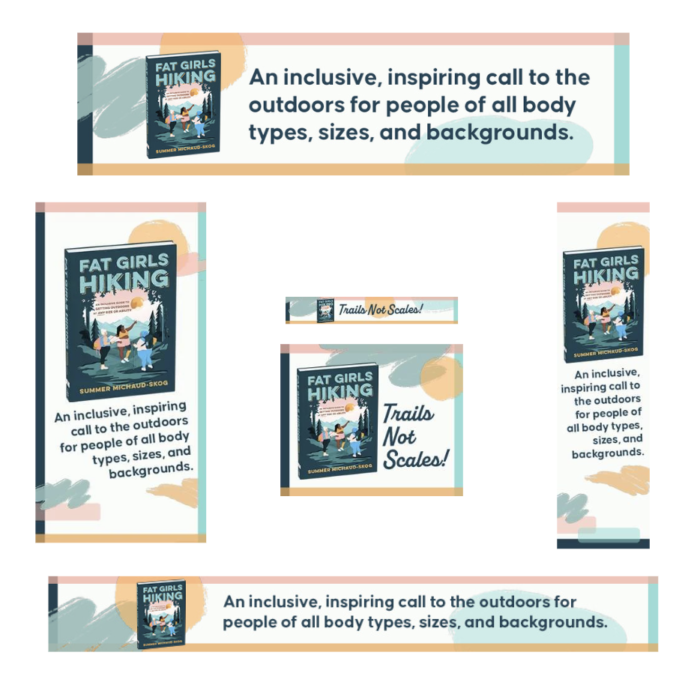 Michaud-Skog is the founder of the Fat Girls Hiking community, a group centered on a body positive mission to get people of diverse backgrounds out on trails no matter their size, ability, or experience. Drawing on her role as leader of the community, Fat Girls Hiking is part guide and part memoir, with wholehearted advice, inspiration from plus-size hikers, trail insight, and much more! Booklist calls it a "An invaluable guide…Kudos to the author for changing the narrative on inclusiveness, breaking down stereotypes, and building body positivity."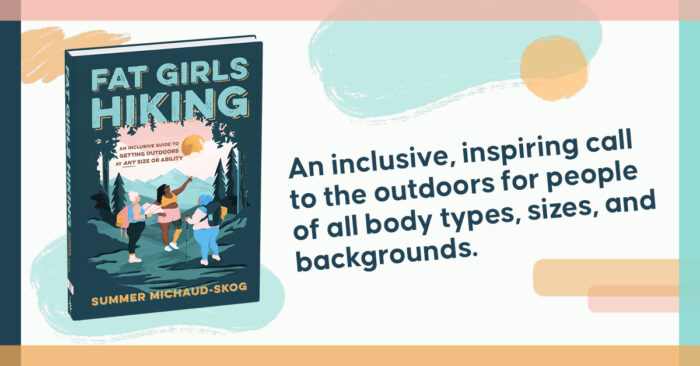 The AdBiblio book advertising campaign for Fat Girls Hiking focused on women ages 18+ with traits and behaviors like: hiking enthusiasts, activists, feminists, those with a strong interest in diversity and inclusion, frequent book buyers, self-improvement seekers, nature and outdoor enthusiasts, and those with a strong interest in community and social advocacy.
We targeted online ads to readers who are fans of comp authors including Louise Green, Jes Baker, Nicole Byer, Roxane Gay, Lindy West, and Virgie Tovar, and podcasts like Every Body, The Fat Lip, Do No Harm, and She Explores.
The ads also sought out people reading articles with relevant terms and phrases like fat activism, body liberation, safer spaces in the outdoors, self-care through nature, positive books for fat women, fat positivity books, plus-size hiking, FatGirl Yoga, and much more!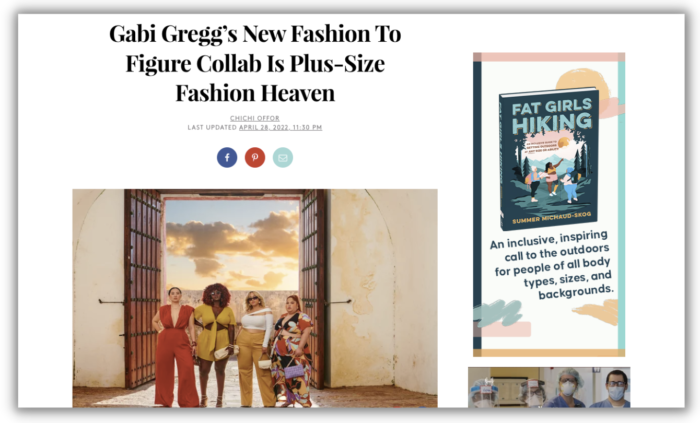 This campaign leveraged our classic mix of native and banner ads across top-tier sites like Refinery29, Bust, Jezebel, Backpacker, Buzzfeed, NY Times, She Knows, and more. Finishing at an impressive .26% CTR overall, the ads made an especially strong impact on people who are passionate about hiking (.68% CTR!!), our AdBiblio read alike audience (.32% CTR), and those with a strong interest in diversity and inclusion (.52% CTR!). We love to see it!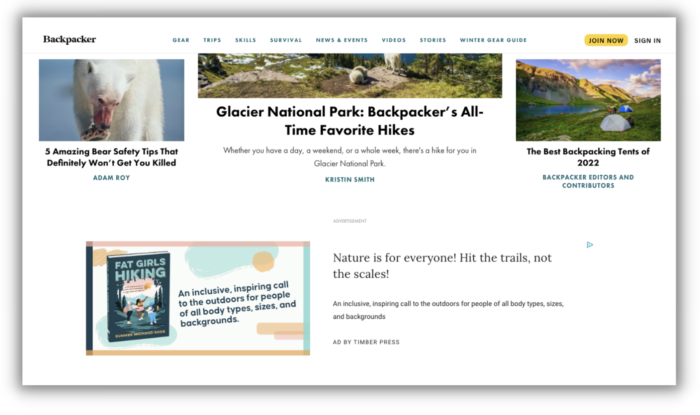 Fat Girls Hiking is not only for the plus-size crowd, but a book for anyone looking to be inspired by nature and join an inclusive and diverse space! You can find your copy here. And if you're ready to promote your next title with an AdBiblio book advertising campaign, you know where to find me – marybeth@adbiblio.com!
Want to read more? Check out more book advertising case studies here!