The year was 2001. The movie: Summer Catch. I think I watched it 4 or 5 times that year going into high school. Flash forward to 2005, and I couldn't get enough of the movie Fever Pitch. So it all adds up to why I was so excited about promoting a baseball romance! We loved helping Wattpad Books use AdBiblio book advertising to promote Caroline Richardson's super fun and steamy novel, Out of His League.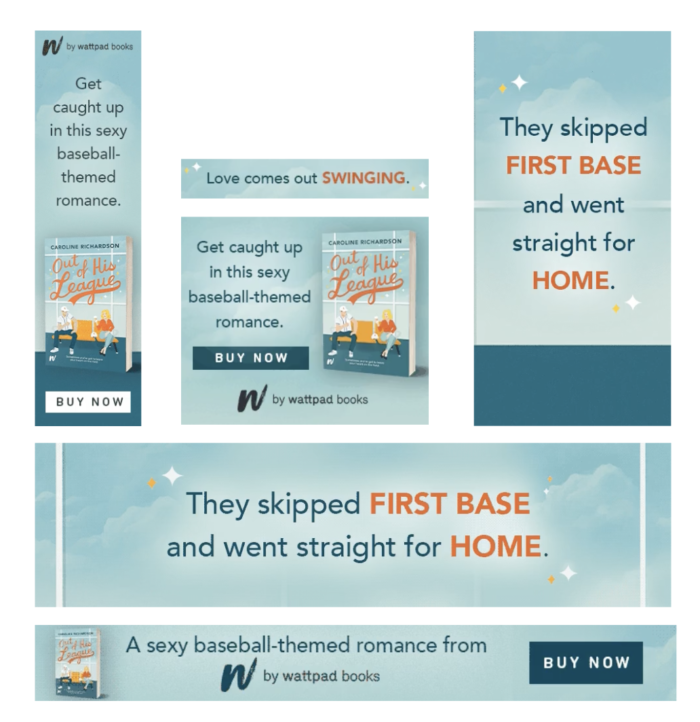 Out of His League is Richardson's debut novel, and garnered over one million reads on Wattpad in less than a year after winning a Watty award – talk about a home run! And this super steamy novel is perfect for readers who love a touch of sports in their romance. What happens when a down on his luck baseball player meets his biggest fan, and it turns into a one night stand? You'll have to read to find out! Publisher's Weekly says, "Richardson delivers a story of love at first sight in this captivating baseball romance…Fans of sports romances will find plenty to enjoy!"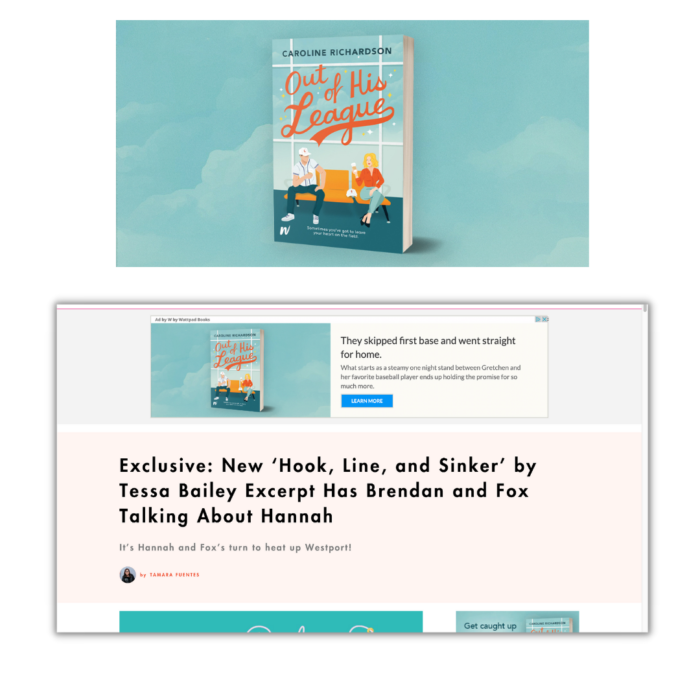 The base of this book advertising campaign targeted female romance readers ages 18+, with traits and behaviors like novel readers, rom-com lovers, literary influencers, avid ebook readers, and Goodreads users. And since it has the baseball tie-in, we also included sports fans and those with a strong interest in baseball. Comps included popular authors like Chloe Liese, Kaylee Ryan, Mariana Zapata, Emily Henry, Jill Shalvis, and Tessa Bailey, and keywords included terms and phrases like sports romance books, baseball romance books, contemporary romance, steamy reads, and much more!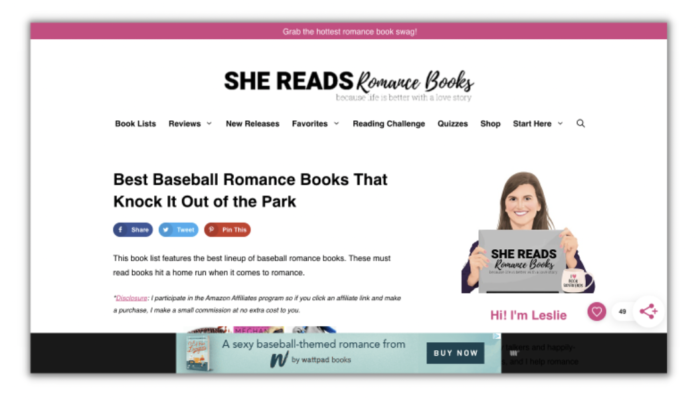 The campaign included our classic mix of native and banner ads, and knocked it out of the park (pun intended) with a .25% CTR! The ads ran on top sites including Bravo, Variety, Buzzfeed, SB Nation, Sports Illustrated, MLB, Cosmopolitan, She Reads Romance and more, and did best with our AdBiblio romance read-alikes – 0.30% CTR, romance readers – .40% CTR, and sports fans – .25% CTR!
Out of His League is the perfect addition to your beach bag this summer – you can grab your copy here! And if you're ready for your next book advertising campaign, let's chat! You can find me at marybeth@adbiblio.com.
Want to read more? Check out more book advertising case studies here!