If there's one year in my life I'd rather not relive, it would have to be seventh grade. I think my mom would agree. Oh, the drama. Middle school certainly isn't smooth sailing, but thankfully we've got incredible books to help tweens build their confidence and survive those awkward years. One of our favorites: The Nat Enough series from New York Times bestselling author Maria Scrivan! We were thrilled to help Scholastic promote the second novel in the series, Forget Me Nat, to parents of middle schoolers everywhere!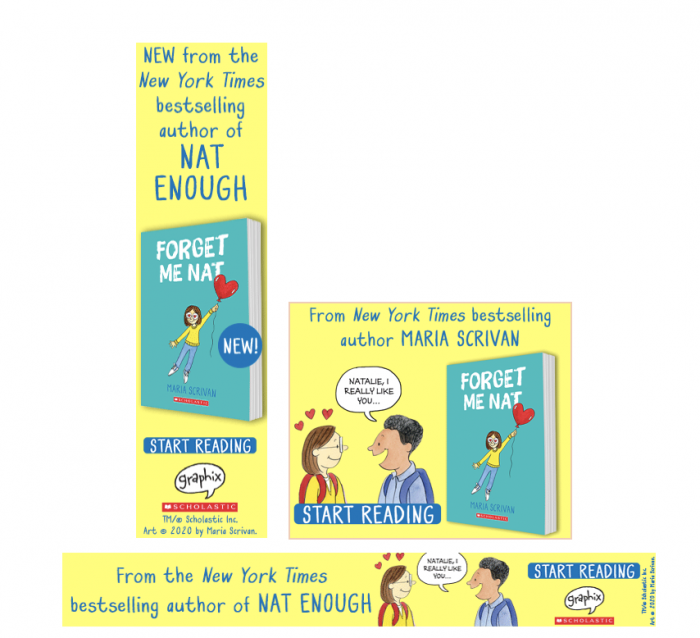 One of the toughest lessons for middle schoolers is learning to feel confident in their own skin, and that's exactly the lesson in each of the Nat Enough graphic novels! In Nat Enough, Natalie has never felt that she's enough — athletic enough, stylish enough, or talented enough – and when her best friend ditches her for another "cooler" girl, she must find her own authentic path. Now, in Forget Me Nat, things get even more complicated as she navigates one of the most complicated journeys of middle school: her first big Crush (we've all been there!) Jim Davis, creator of Garfield, says: "Maria writes funny, Maria draws funny, and Maria does it with a ton of heart." We agree!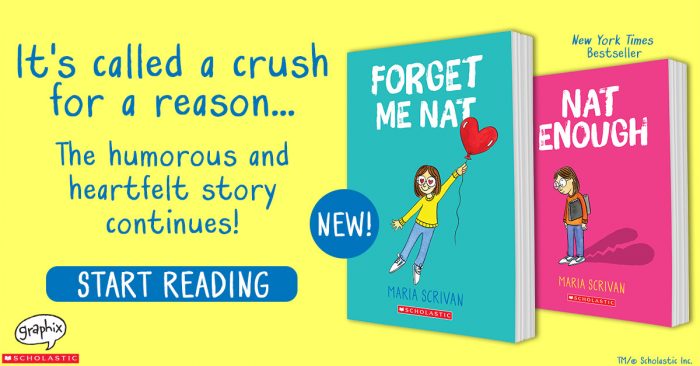 The foundation of this campaign included the key audience of parents of children ages 8-12. On top of this, we layered important traits like comic book & graphic novel enthusiasts, children's book buyers, tween gift shoppers, mommy blog readers, and parenting content readers! Middle grade graphic novels are definitely having a moment, so we were sure to target comp authors like Raina Telgemeier, Shannon Hale, Kristen Gudsnuk, Kayla Miller and Jennifer L. Holm – as well as popular authors of middle grade friendship novels like Ann M. Martin and Lisa Greenwald. Keywords included terms and phrases like graphic novels for kids, children's graphic novels, middle grade series, middle grade graphic novels, and children's friendship books.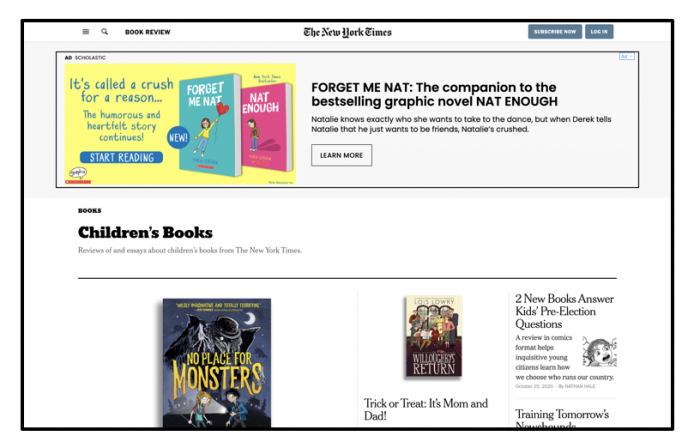 The campaign included our native and banner ads, as well as an adorable pre-roll video that really helped the book stand out! The native/banners finished at a .18% CTR, and ran on top sites including NY Times, Fatherly, Alpha Mom, Cafe Mom, Pop Sugar Family, Bookstr, and Parents, and performed particularly well with our read-alike children's book audience (0.28% CTR), Tween gift shoppers (0.27% CTR), and those shopping for children's books online (0.22% CTR)!
The pre-roll video finished at a stellar 1.11% CTR and ran on top sites including Imagination Soup, Cafe Mom, Scary Mommy, NY Times, USA Today, and The Artful Parent. The video resonated best with avid children's book readers and buyers (1.75% CTR), those shopping for children's books online (1.16% CTR), and Tween gift shoppers (1.14% CTR)!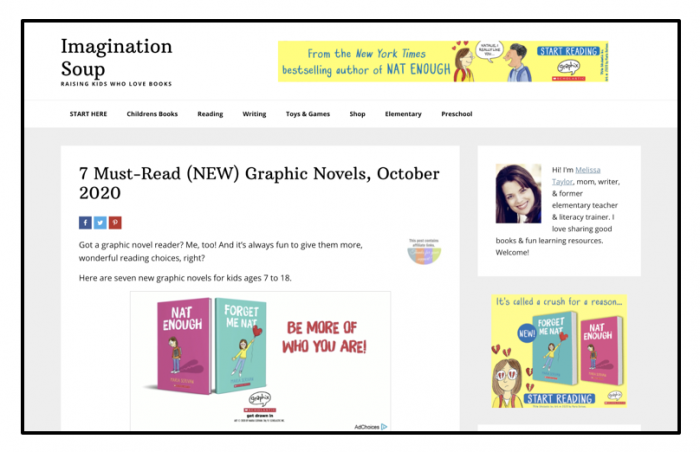 If you have a middle grader in your life, you've got to get your hands on this graphic novel series! You can find Nat Enough here and Forget Me Nat here. And if you have a children's book to promote, we're ready to help –marybeth@adbiblio.com!