One of my favorite cities is New York City. Typically I'm there visiting with you lovely folks all throughout the year, but it's been way too long since I've been back. I miss it so much! Luckily, we have books to transport us to our favorite places during this pandemic. Kevin Dann's Enchanted New York: A Journey along Broadway through Manhattan's Magical Past is the perfect escape. We were thrilled to help NYU Press with this mystical read!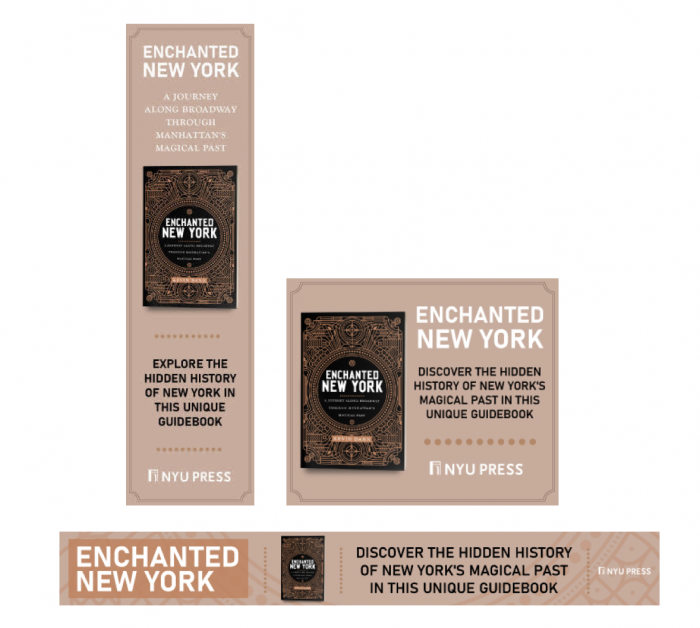 There's a lot of books out there about NYC, but Kevin Dann presents a unique look at the history of Manhattan through a "magical" lens. Through stories of wizards, illuminati, fortune tellers, magicians, and more, Enchanted New York begins at Washington's inauguration and takes the reader on a journey through Broadway and into the modern era. Foreward Reviews says: "There are no ancient monuments to mark New York City's magical history; in their place, Dann's historical guide chronicles the city's lesser-known magical past."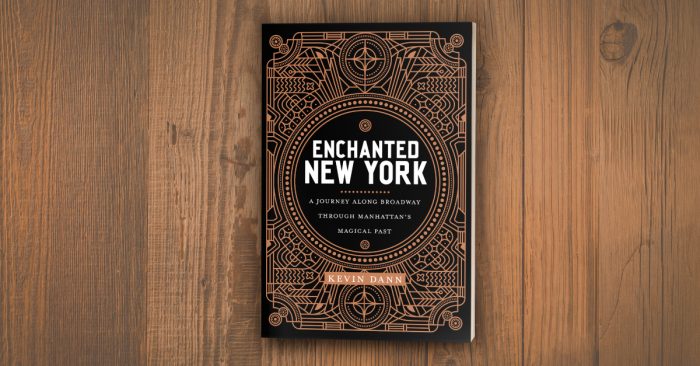 For the foundation of this campaign, we aimed to reach avid readers / book buyers and nonfiction readers. On top of this, we layered in traits like History buffs, Broadway fanatics, those passionate about theater arts, and readers of The NY Times, New Yorker and/or NY Daily News. And of course, since the book is all about the magical past of Manhattan, we included a test group of people living in New York. With the campaign running during the end of November, we were also sure to include our holiday and Black Friday shoppers. Comps included books like Humans of New York by Brandon Stanton, Here in New York by E. B. White, and The Bowery: The Strange History of New York's Oldest Street by Stephen Paul DeVillo. Keywords included phrases like history of New York, history of Broadway, New York City history, NYC books, and for New York lovers.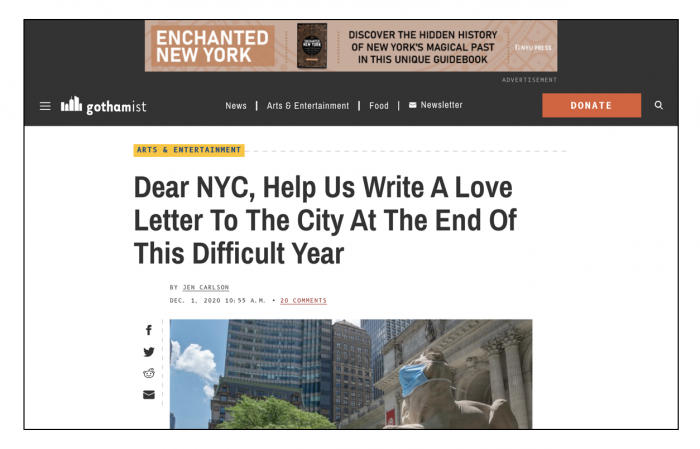 The campaign included a mix of our native and banner ads and ran on top sites including NY Times, Gothamist, NY Post, New Yorker, NY Daily News, Vanity Fair, NYC Insider Guide, and History. The ads did particularly well with Broadway fanatics – 0.28% CTR, Holiday shoppers – 0.28% CTR, and our AdBiblio nonfiction read alike audience – 0.26% CTR! We were also delighted to learn that NYC trip planners showed strong interest in the book, with a CTR of 0.22%! Hopefully many people will be visiting all these magical Manhattan spots once the pandemic is over!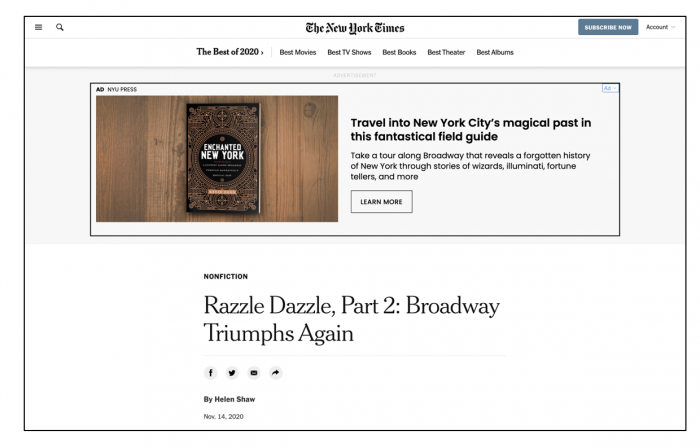 If you're looking to escape into NYC's magical past, you can find the book here! And you know where to find me for your next campaign – marybeth@adbiblio.com!