If you look glance through the reviews for Girlhood by Melissa Febos, you'll see praise after praise – and for good reason. Febos's deep dive into the female experience is a true gift for all readers, and might even be considered required reading by some! We loved helping Bloomsbury spread the word about this powerful essay collection.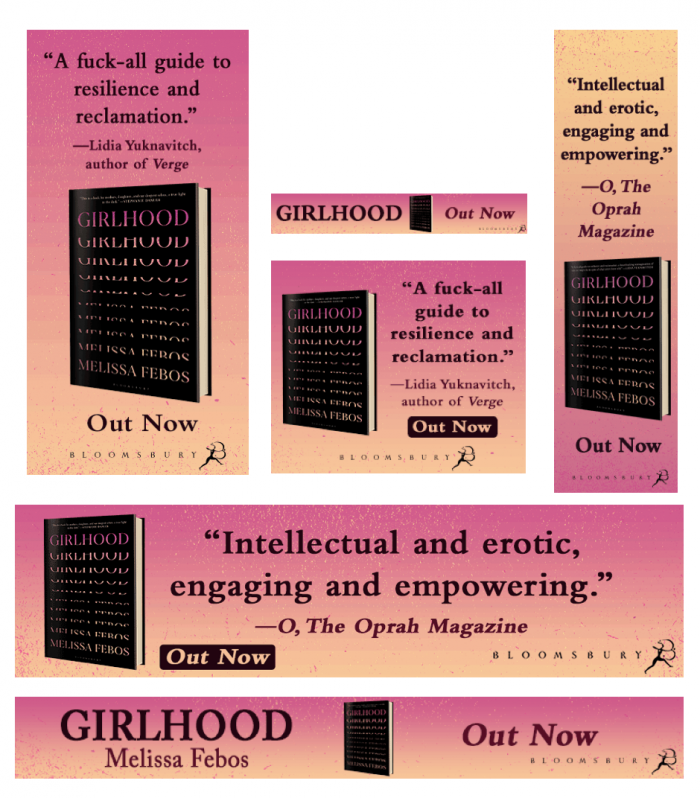 Named a Most Anticipated Book by The New York Times, Buzzfeed, and more, Girlhood is definitely one you'll want to add to your TBR shelf. In the words of our own Karli on Instagram – "I give this book ALL the stars plus one sun and one moon because THAT is how stellar it is. Blending memoir with essays & journalism Melissa Febos offers a new blueprint for women who want to renegotiate the relationship they have with their younger selves. This is both an autopsy and an awakening – a hard examination of the values that were chosen for us in adolescence and how they affect our adult psyches. What aspects of the girlhood self will we choose to keep and cherish? And what will we discard?"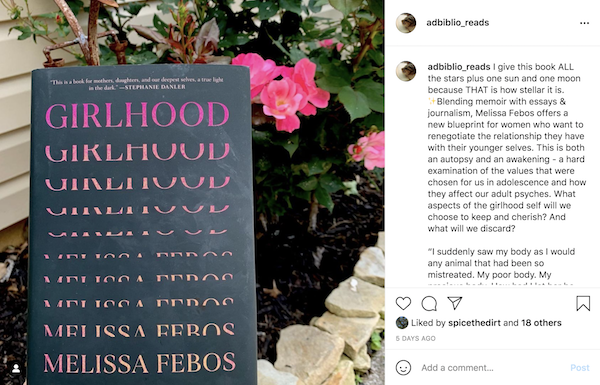 The base of the campaign targeted nonfiction readers and book buyers, with layered traits and behaviors like Book Club Members, Feminists, Vogue readers, Literary fiction readers, those with a strong interest in social sciences and gender studies, bestselling book buyers, and more. Comps included authors like Elizabeth Lesser, Jia Tolentino, Florence Given, Joan Didion, Maggie Nelson, Roxane Gay, and Lindy West, and keywords included terms and phrases like literary memoir, feminist essays, most-anticipated nonfiction, feminist reads, essay collection, gender theory, cultural analysis, compelling essays, and more!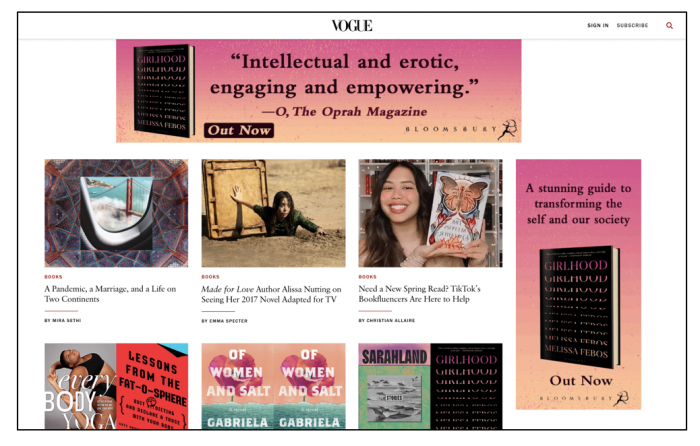 The campaign included our classic mix of native and banner ads, and finished at a .20% CTR. The ads ran on top sites including Teen Vogue, Vogue, Vanity Fair, Bustle, Refinery 29, Goodreads, Bust Magazine, The Cut, Jezebel, Buzzfeed, and more, and did best with avid nonfiction readers & book buyers – 0.28% CTR, Book club members – 0.23% CTR, and Vogue readers – 0.21% CTR. The client really hoped to reach Vogue readers and sites so we were thrilled to make that happen!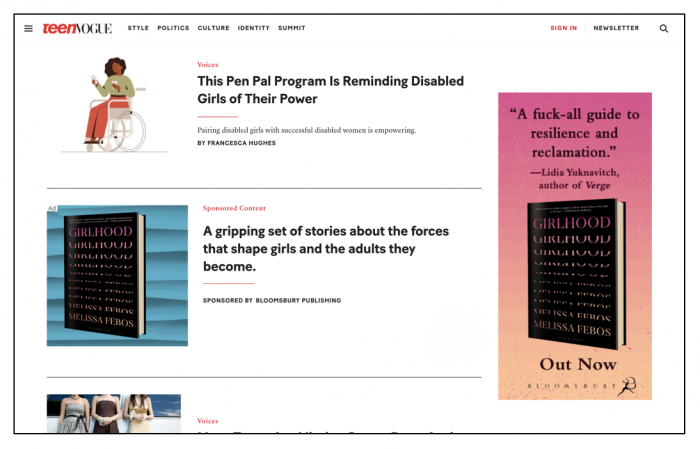 To experience all the hype for yourself, you can find your copy of GIRLHOOD here. And if you have a book you're hoping to advertise, reach out at any time! Shoot me an email at marybeth@adbiblio.com.