If you've ever wondered whether AdBiblio works for non-fiction titles, look no further than Simon & Schuster's The Kingdom of Happiness campaign. When S&S reached out about promoting this title, we couldn't wait to put our book advertising tools to work!

The Kingdom of Happiness by Aimee Groth is an insider account of Zappos CEO Tony Hsieh's quest to build his own Las Vegas utopia. While living in Zappos corporate housing, Groth had a firsthand view of Hseih's attempt to build a new, socially conscious version of Silicon Valley known as the Downtown Project.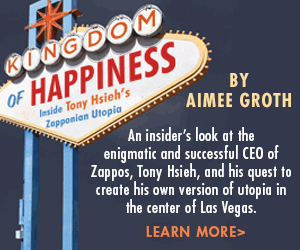 We knew people who are fascinated by tech and startup culture would devour this title. To reach those readers, we targeted a whitelist of top tech news sites like Mashable, Wired, Gizmodo, and The Verge. Using behavioral trait targeting we also sought out non-fiction and biography readers working in the tech industry, living in Silicon Valley, and with a strong interest in entrepreneurship and business culture. In addition, we layered in Parallel Genre Targeting to reach readers of relevant titles like The Everything Store: Jeff Bezos and the Age of Amazon by Brad Stone and Steve Jobs by Walter Isaacson.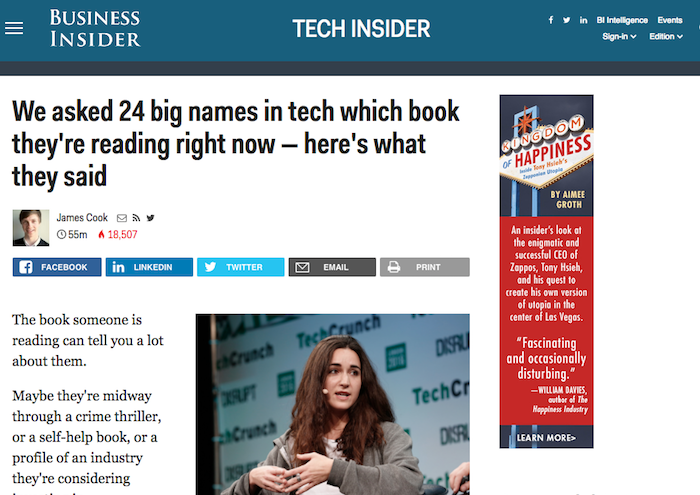 Simon & Schuster reached more than 350k unique readers and generated an impressive 0.22% CTR. Our AdBiblio read-alikes (cookied readers who have expressed interest in other relevant AdBiblio campaigns) clicked through at more than 1.5X that rate with a 0.35% read-alike CTR! The campaign also achieved a 16.04% interaction rate from people who engaged with the ads for at least half a second. To continue capitalizing on the success of the original campaign, a chaser ad for The Kingdom of Happiness will also continue retargeting interested readers until mid-April.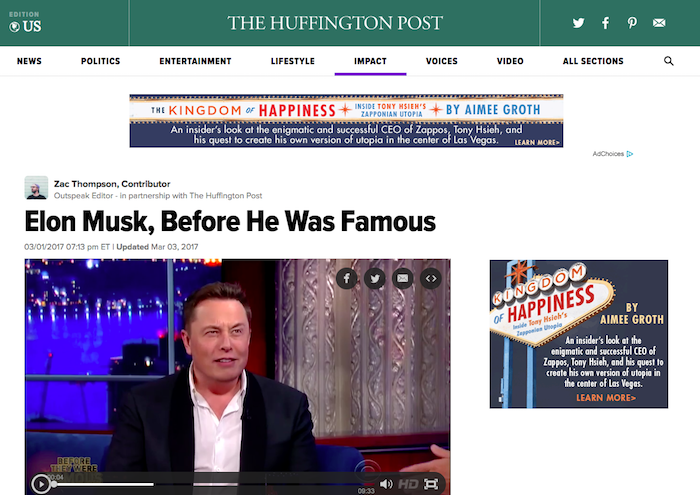 If you've been thinking about promoting a non-fiction title, Mary Beth would love to talk about how AdBiblio can help – send her a note at marybeth@adbiblio.com to start the conversation. And don't forget to pick up a copy of The Kingdom of Happiness for yourself from simonandschuster.com!