We love that queer representation is being brought to the forefront of comics, graphic novels, and manga. From fan favorites like Heartstopper and The Witch Boy to series like The Legend of Korra and Lumberjanes, LGBTQIA+ creators and stories are more popular than ever. When we heard about the launch of Surely Books – the new line of LGBTQIA graphic novels from ABRAMS – we jumped on board to help spread the word with AdBiblio book advertising!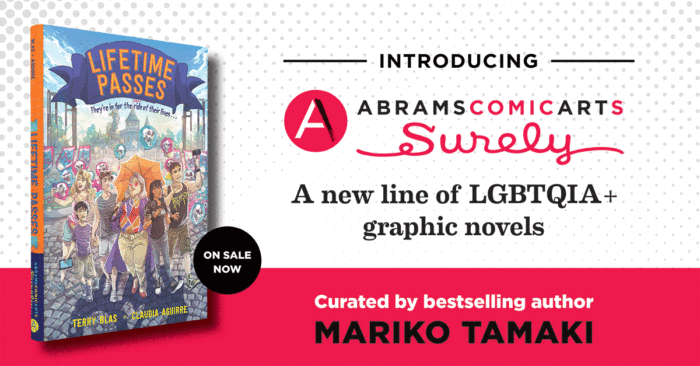 Surely Books is "a new line of graphic novels curated by the bestselling Eisner Award-winning author Mariko Tamaki dedicated to expanding the presence of LGBTQIA creators and content in the comics world." The campaign ads highlighted three titles – M is for Monster by Talia Dutton, Lifetime Passes by Terry Blas, and Flung Out of Space by Grace Ellis.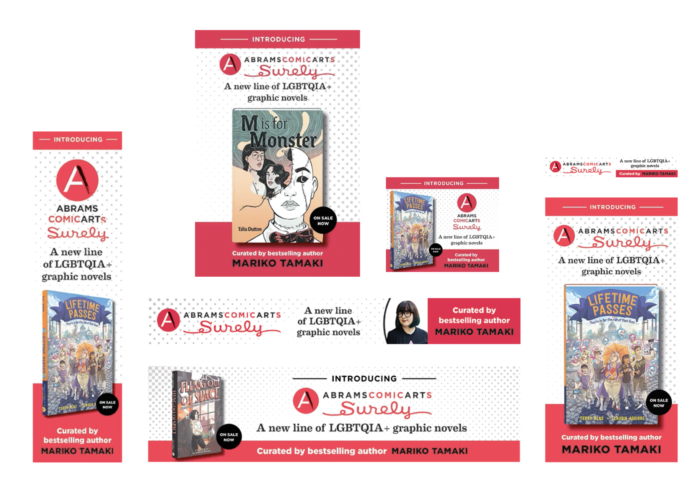 In M is for Monster, "a scientist attempts to bring her younger sister back to life with unexpected results in this Frankenstein-inspired graphic novel about ghosts, identity, and family." Lifetime Passes is a darkly comedic YA graphic novel about "a group of teens that start a program to bring senior citizens to a local theme park to take advantage of the unofficial park policy: If someone dies on the property, the rest of their party is given lifetime passes!" And in Flung Out of Space, Grace Ellis paints "a fictional and complex portrait of bestselling author Patricia Highsmith caught up in the longing that would inspire her queer classic, The Price of Salt." Each one not only shines with unforgettable illustrations, but features inclusive LGBTQIA+ storylines with queer characters.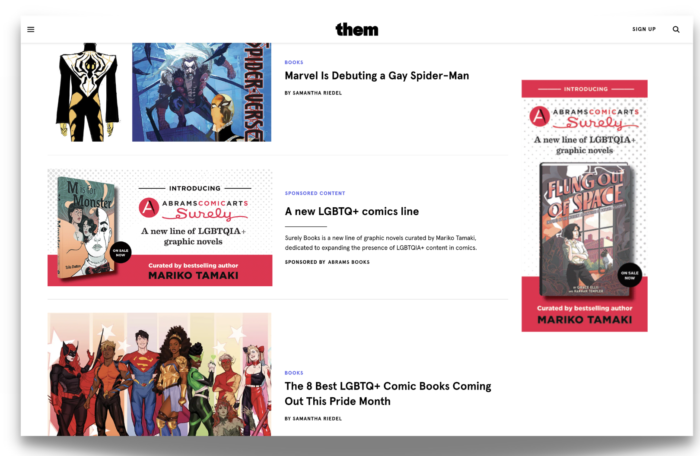 The base of the Surely Books campaign targeted comic book, graphic novel, and manga readers, as well as LGBTQ+ advocates. Traits and behaviors included sci-fi and fantasy readers, YA readers, Comic-Con fans, and those with a strong interest in nerd culture. We also reached superhero fanatics, literary influencers, those who read queer content online, and teen TV viewers. Comps included popular authors like Alice Oseman, Phil Stamper, Becky Albertalli, Justin Hall, Charlie Jane Anders, and Molly Ostertag and keywords included terms and phrases like queer comics, inclusive graphic novels, LGBTQ+ YA, celebrate pride month, and more.
The campaign also utilized our proximity targeting to reach comic book & graphic novel readers, YA readers, & nerd culture enthusiasts out in the real world! Ads were served to qualified readers who were actively shopping in, or who had recently visited, comic book stores or Barnes & Noble retailers. (P.S. Here's a quick recap of our proximity ads!)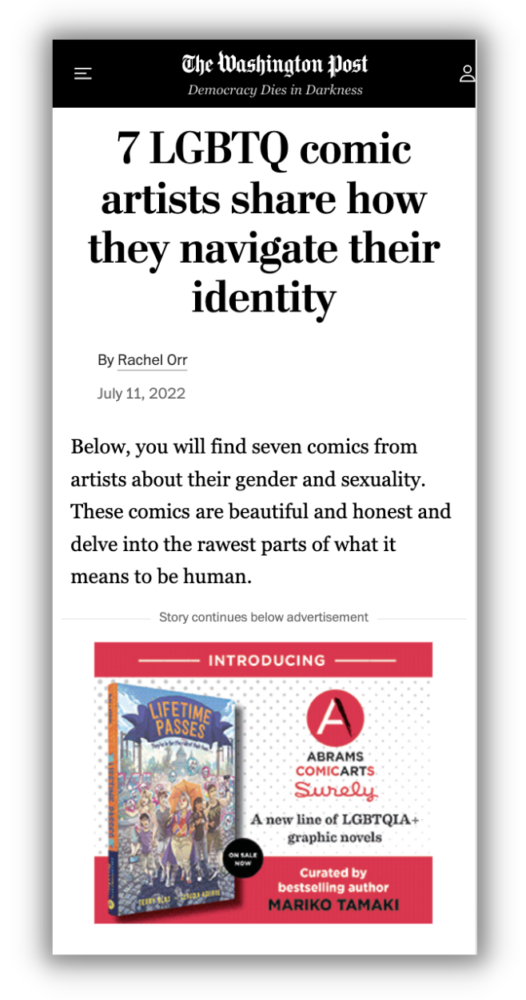 The native and banner ads finished at a .20% CTR, while the proximity portion finished at a .22% CTR! The ads ran on top sites including NY Times, Comicbook, Bleeding Cool, Books and Bao, Den of Geek, Advocate, LGBTQ Reads, Advocate, Pink News, Nerdist, Comic Book Movie, and more! Best performing demos and traits included YA readers(.67% CTR!), comic book, graphic novels, and manga readers (.52% CTR), and LGBTQ+ advocates (.36% CTR)!
If you're looking to get your hands on a fantastic queer graphic novel, look no further than the amazing selection from Surely Books. You can check out all the titles here! And if you're ready for your next campaign, you know where to find me — marybeth@adbiblio.com!
Want to read more? Check out more book advertising case studies here!