It's enough to have our favorite fiction authors bless us with their novels, but to be able to glance into their own lives is a unique gift all its own. What were they like as children? Why did they become a writer? What is their story? For fans of bestselling author Jacqueline Winspear, the answers are bundled up in her beautiful new memoir, This Time Next Year We'll Be Laughing. We were thrilled to help Soho Press spread the word about this rich, deep dive into Winspear's past.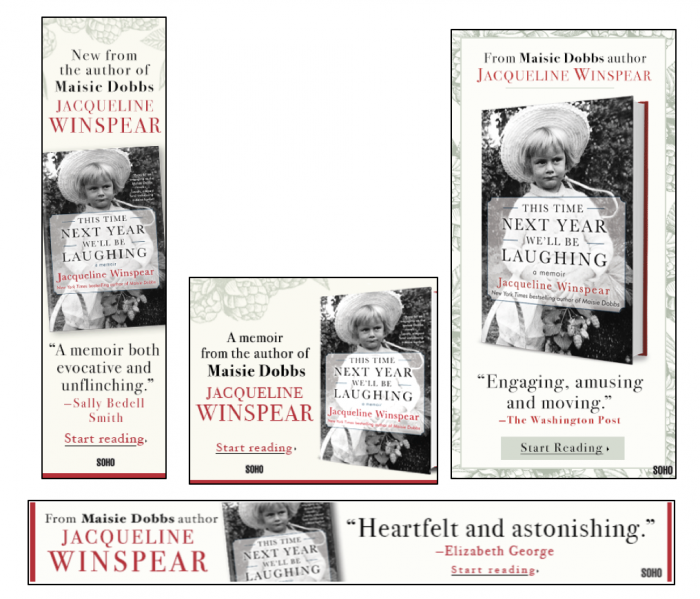 Known best for her Maisie Dobbs mystery series, Winspear has beloved fans all over the world. Now, after 16 novels, she has decided to examine the mysteries in her own life. A Finalist for the 2021 Edgar Award for Best Critical/Biographical, This Time Next Year We'll Be Laughing is a deeply personal look into Winspear's English childhood and her family's resilience in the face of WWII. From her mother's evacuation during the Blitz to her parents living with Roman gypsies, her family's story is just as fascinating and mesmerizing as the novels and characters she writes. Buzzfeed says, "The book is heartfelt and humorous, poignant and frank, and — as with the Maisie Dobbs books — beautifully written."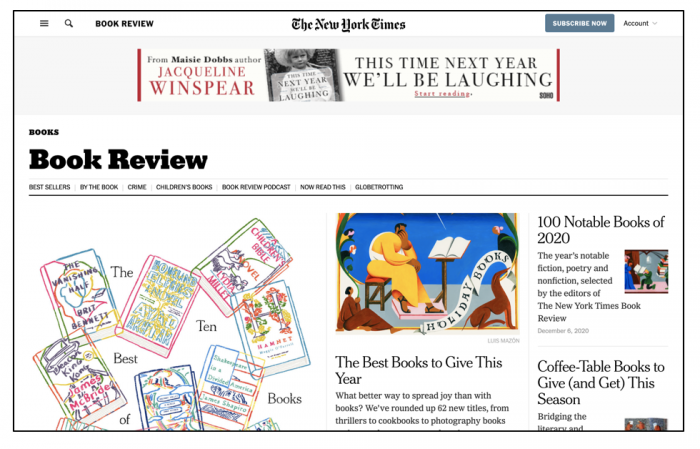 For the foundation of this campaign, we aimed to reach nonfiction readers and book buyers, as well as general book fanatics. Because her novels tend to appeal to older women, we included a test layer of women ages 40+. Additional targeting included traits and behaviors like Biography / memoir readers, NPR listeners, History buffs, Book Club Members (and those interested in Oprah's Book Club!), and period drama viewers. And with the campaign running during November, we were sure to include to our Holiday and Black Friday targeting. Comp authors included big names like Jeannette Walls, Elizabeth Gilbert, Joan Didion, Olivia Laing, and Zadie Smith, and keywords included terms and phrases like Maisie Dobbs (to reach those Winspear fans!), author memoirs, must read memoirs, nonfiction bestsellers,, best books of the year, and literary fiction gifts.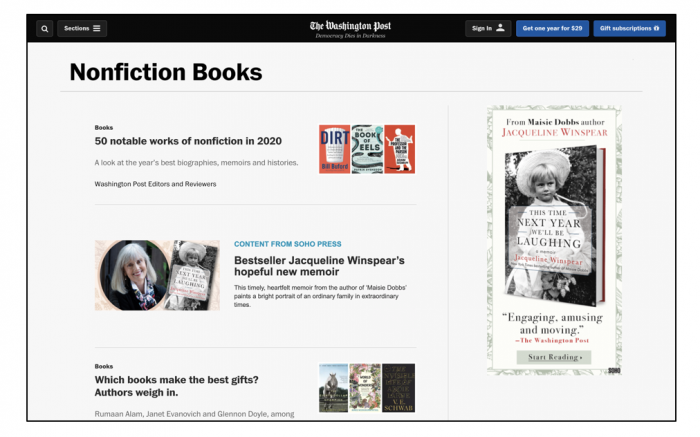 The campaign included our popular mix of premium / traditional banners and native ads, and finished at a strong overall CTR of .21%. The ads ran on top-tier sites including Washington Post, New Yorker, Oprah Mag, NPR, Bustle, Vanity Fair, Huffington Post, Goodreads, NY Times, The Atlantic, and did particularly well with Bestselling book buyers – 0.38% and Nonfiction fanatics – 0.25%. And with Winspear's memoir diving deep into WWII and post war England, we were thrilled to see that History buffs were also eager to click on the book (.26%!).
Whether or not you are familiar with Winspear's mystery novels, her memoir is one that will continue to stay with you long after you've read it. You can find This Time Next Year We'll Be Laughing here. And if you're ready for your next campaign, you know here to find me -–> marybeth@adbiblio.com.