I like to think of myself as a pretty avid reader, but even I'm impressed with the sheer number of books I've finished over the last six weeks. I think I've set a new record. With the majority of people staying and working from home, so many like myself are turning to books for escape, to pass the time, and to help their kids continue to learn. And though the world is on lockdown, we love that publishers like Bloomsbury are still committed to doing all they can to inspire reading for all ages. We were thrilled to help them reach avid readers and book buyers for their stay at home sale!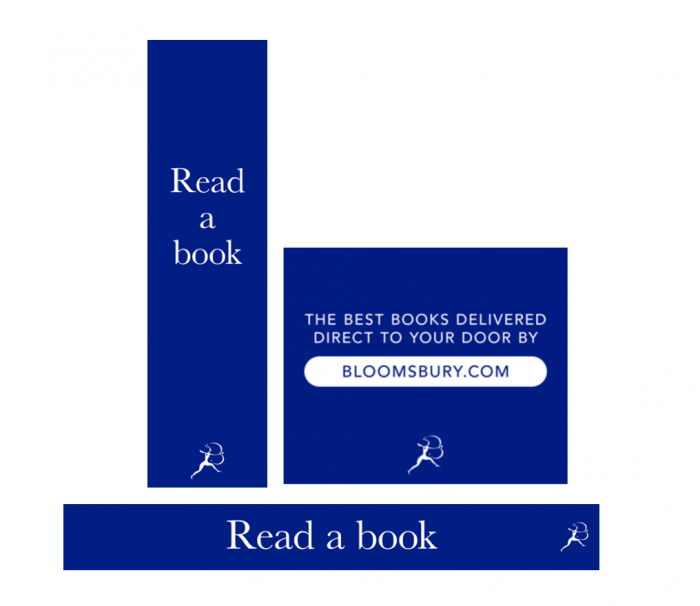 The stay at home sale includes 30% off their print books and 45% off their ebooks, and free postage for US orders over $25! You can grab some of their instant classics like Salvage the Bones by Jesmyn Ward, new paperbacks like Women Talking by Miriam Lowes (on my list for May), fantasy favorites like Throne of Glass from Sarah J. Maas, or bedtime stories for the kiddos like Ravi's Roar by Tom Percival. There's truly something for everyone!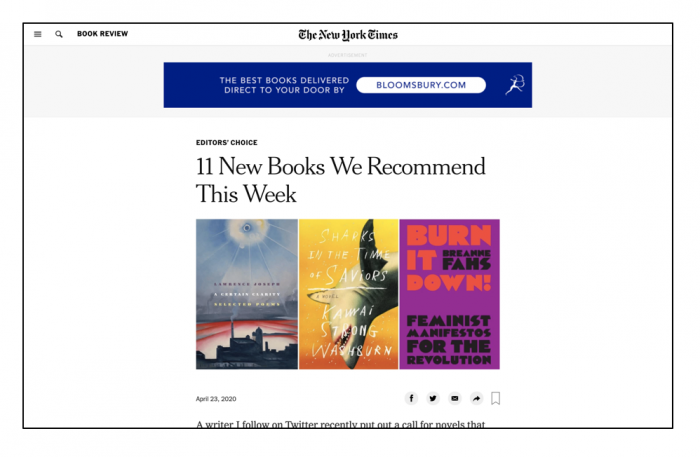 The client hoped to reach a slightly older audience for this campaign, so the base of the targeting included women ages 30+ and avid readers and book buyers 40+. On top of this, we added traits like book club members, avid fiction and nonfiction readers, Barnes and Noble shoppers, children's book buyers and bestselling book buyers. Comp authors included those in the sale such as Renée Watson, T Kira Madden, and Brigid Kemmerer, and keywords like books on sale, discount books, deals on books, and bestselling books.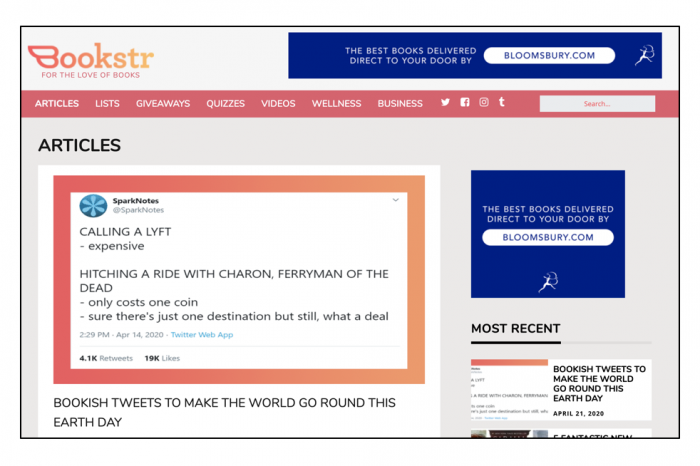 Since the campaign goal was mass awareness of the sale, the client chose to run banners only. The ads finished at an overall CTR of .11% (above par to the benchmark of .08% for banners!) and did particularly well with frequent book buyers (.10% CTR), those with a strong interest in books and literature (.12% CTR), and avid fiction readers (.07% CTR). The ads ran on major news outlets like The New York Times, Washington Post, and The New Yorker, as well as book related sites like Goodreads, Bookstr, and Bustle. Some of the top performing sites included The Uncorked Librarian (0.47% CTR!), Real Simple (0.33% CTR), People (.27% CTR), Oprah Mag (.26% CTR), and The Guardian (.12% CTR)!
It's comforting to know that despite the challenging times, people can still find solace in books. Make sure you check out Bloomsbury's sale for some new reads! And if you're looking to set up a campaign now or in the future, we're here to help. You can find me at marybeth@adbiblio.com!