Q: What do you get when you combine a murder mystery, an eccentric amateur sleuth, and the stunning backdrop of Sicily?
A: A National Bestseller, an Indie Next List selection, a Spring '18 B&N Discover Pick, a Costco Staff Pick, an Amazon Best Book of March 2018… and plenty more accolades!
Auntie Poldi and the Sicilian Lions by Mario Giordano tells the story of Auntie Poldi, a 60 year old German widow who retires to Sicily "…intending to drink herself comfortably to death with a sea view" – so basically living out my personal retirement fantasy. But when her handsome young handyman turns up dead, Poldi vows to get to the bottom of the case.
Not only is Poldi a uniquely compelling new mystery star, she's actually based on the author's real-life aunt, which makes her even cooler. Mario Giordano says, "I really did have a Bavarian aunt named Poldi who moved to Sicily when she was 60… Many incidents in the novel actually happened more or less as depicted." And the narrator of the story is based on Giordano himself.

It was clear that Auntie Poldi was destined to be a big hit, so Houghton Mifflin Harcourt needed to use multiple targeting approaches to reach all the readers who were likely to be interested in the book. We worked with HMH to split the ad campaign into a three-prong approach: banner ads for the broadest reach and title awareness; native ads to drive engagement and tease the story; and proximity ads to zero in on Costco shoppers, who could snag Auntie Poldi at Costco stores around the country.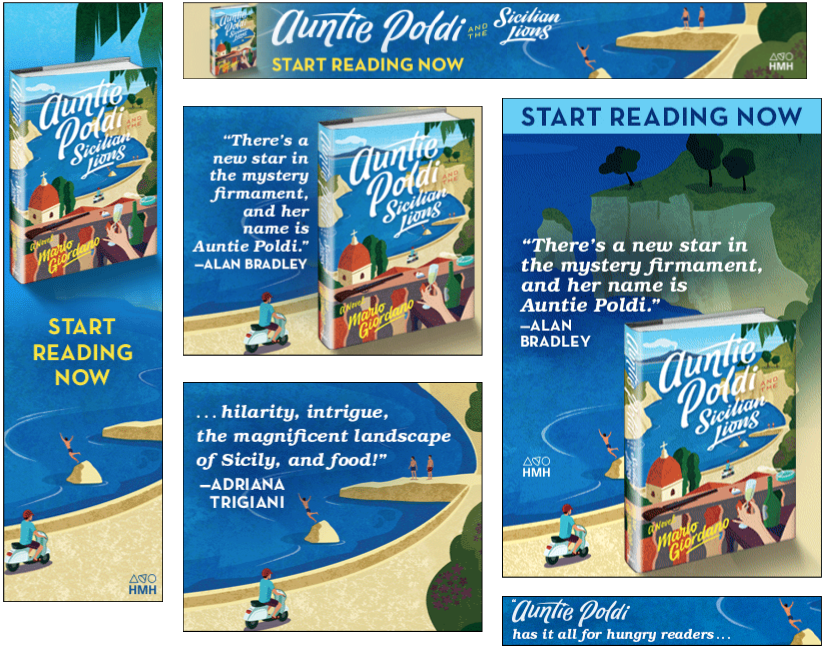 The book ads were engaged with by best-selling fiction fanatics, avid online book buyers, devoted Cozy Mystery readers, and fans of similar titles and authors like Adriana Trigiani. We also knew this would be an excellent choice for book clubs, so we showed the ads to readers in book clubs and people searching for their next book club selection. The campaign ran on top-tier sites and apps like Bustle, Oprah, The New York Times, People, The Huffington Post, Martha Stewart, The Atlantic, USA Today, and many more.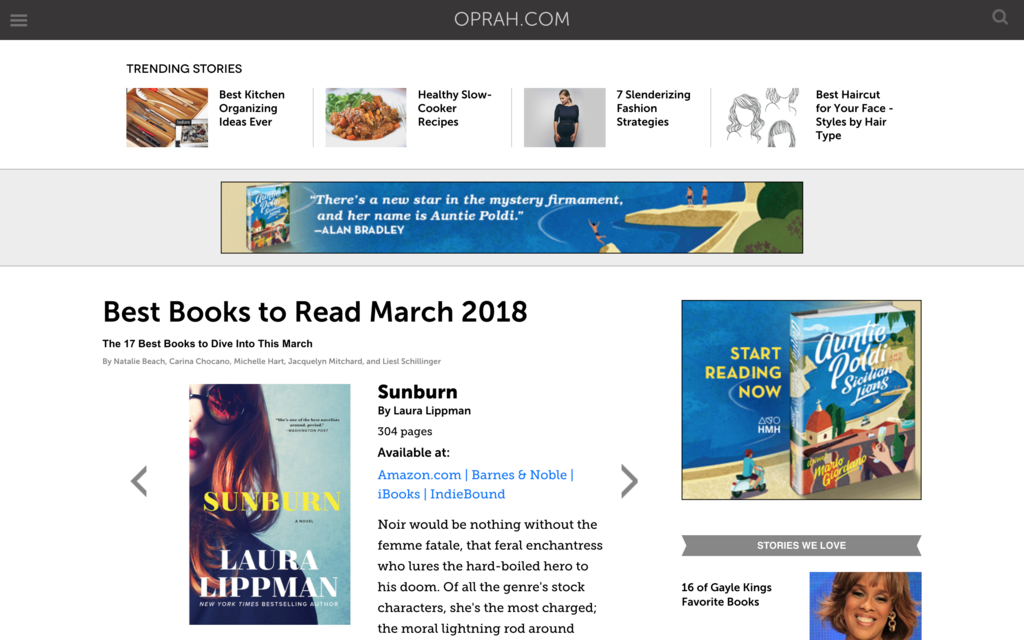 Originally scheduled to run for 4 weeks, the campaign was so successful that HMH kept it going for an extra 4 weeks to continue maximizing reach and engagement. The banner ads were seen nearly 700k times by highly qualified readers. Costco shoppers engaged with the real-time proximity ads at a fantastic 0.21% CTR, and the native ads generated a whopping 0.31% CTR! AdBiblio read-alikes were especially interested in the campaign, clicking at a rate of 0.37%. We were fascinated to see that readers of literary classics were one of the groups that were highly responsive to the native ads – they must have recognized a new classic when they saw it! And readers who saw the banner ads on multiple devices (for example, both mobile and desktop) were twice as likely to click.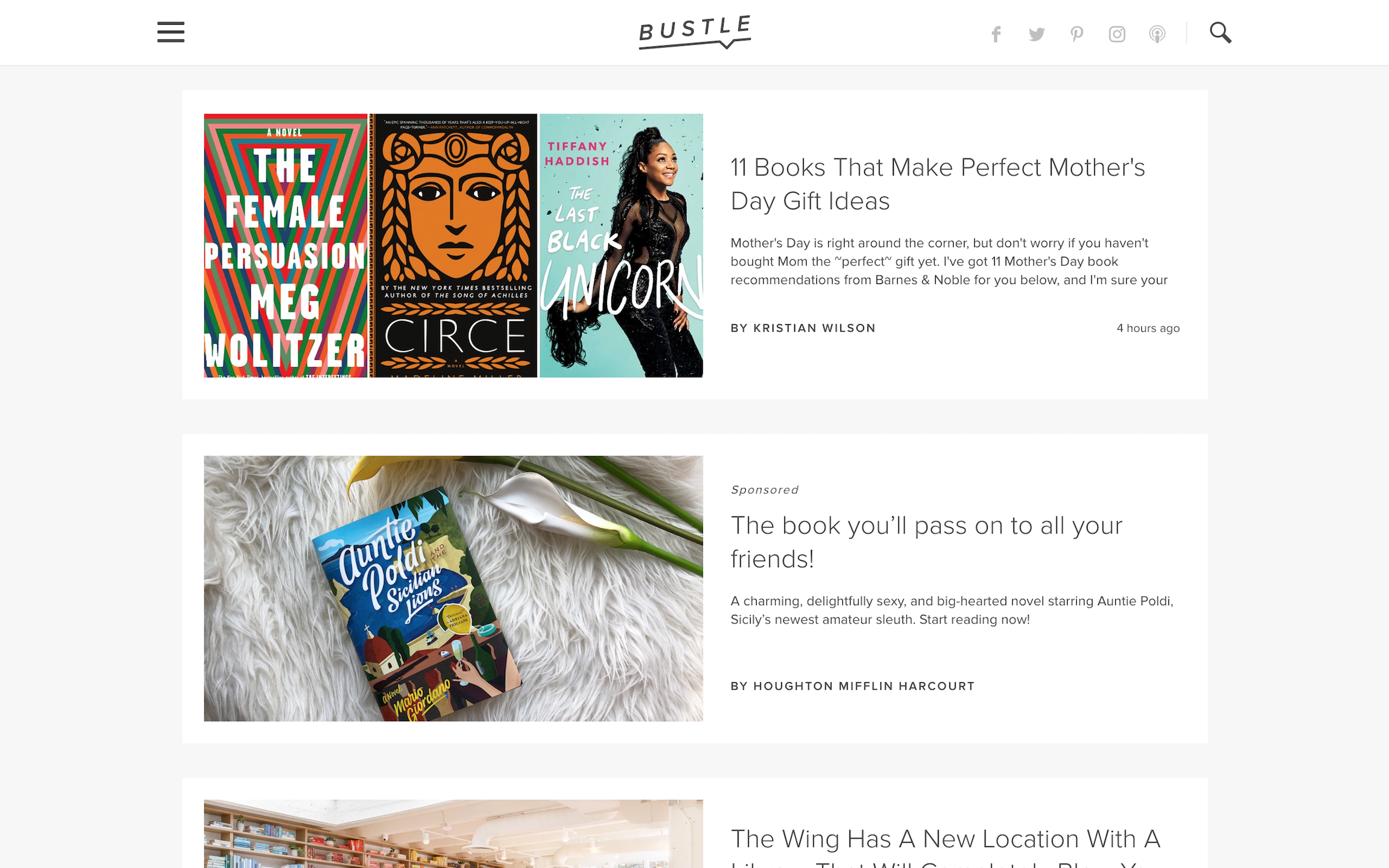 Let's take a moment to raise a glass of prosecco to Auntie Poldi – we can't wait for her next adventure to begin!
Be sure to enjoy an excerpt of the book here, and as always Mary Beth would love to help you plan your own precision ad campaign. Send her a note at marybeth@adbiblio.com to get started!