There's a ton of praise happening for Zak Salih's Let's Get Back to the Party, and for good reason! In fact, I'm blown away that this is his first novel. The characters will draw you in and keep you reading for hours on end (our favorite kind of party!) We were thrilled to share this powerhouse of a debut with the world!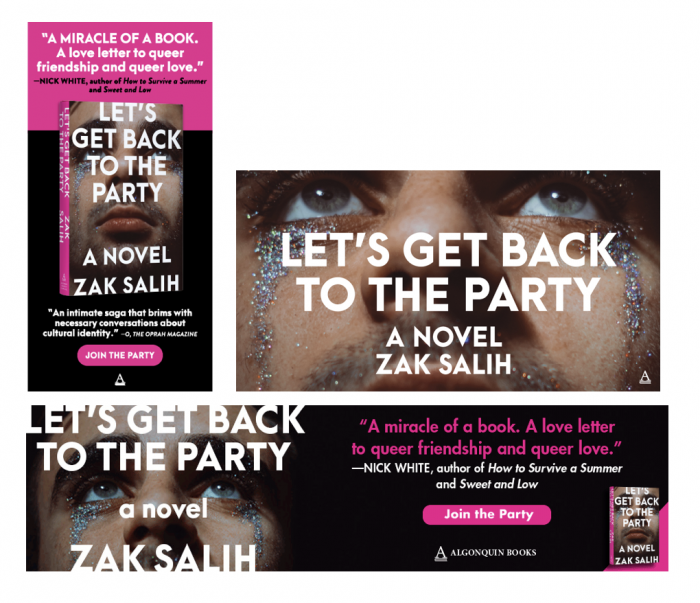 A Most-Anticipated Book of 2021 by BuzzFeed, The Millions, LGBTQ Reads, and more, Let's Get Back to the Party is "A gorgeously written meditation on being a gay man in America now . . . Raw and captivating." —BookPage. AdBiblio's Senior Campaign Strategist Karli (@adbiblio_reads) says: "Zak Salih presents a queer generation coming to terms with their dynamic collective history and creating space for a future that is even more dynamic and nuanced. Along the way, there is some great discussion of art, literature, sex, aging, and pop culture. Much like Detransition, Baby (which is another excellent piece of queer lit and a great companion piece!), Let's Get Back to the Party offers thoughtful and forward conversations about the beautiful and complex spaces we hold for both collective and individual identity." She also had a blast matching her nails to the amazing book cover!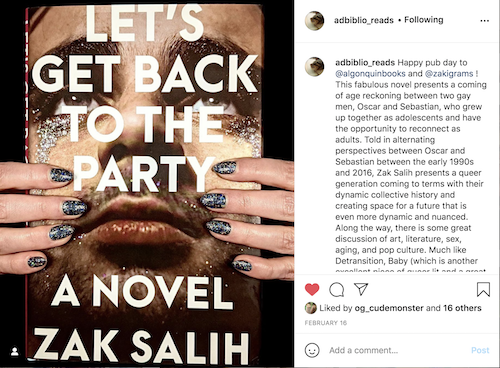 The foundation of the campaign included literary fiction and avid fiction readers. On top of this, we added in traits like LGBTQ advocates, bestselling fiction buyers, books and lit enthusiasts, novel readers, book club members, those with a strong interest in Oprah's book club, Goodreads users, and NPR listeners. Comp authors included Garth Greenwell, Alan Hollinghurst, Claire Messud, Rebecca Makkai, Andrew Sean Greer and more! Media comps included popular shows like Pose, Euphoria, I May Destroy You, Betty, Angels in America, and Shrill! Additional keywords included phrases like LGBTQ books, queer literature, must read fiction, debut authors, and queer book club.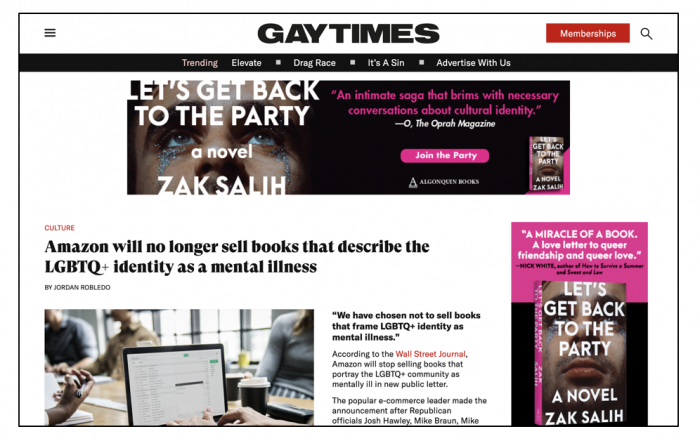 The campaign included a mix of our native / banners and finished at a .20% CTR. The ads ran on top sites including Gay Times, Attitude Magazine, Out, LGBTQ Nation, NPR, Buzzfeed, LGBTQ Reads, and did best with our AdBiblio read alike audience – 0.39% CTR, Goodreads users – 0.22% CTR, and Bestselling fiction buyers – 0.21% CTR!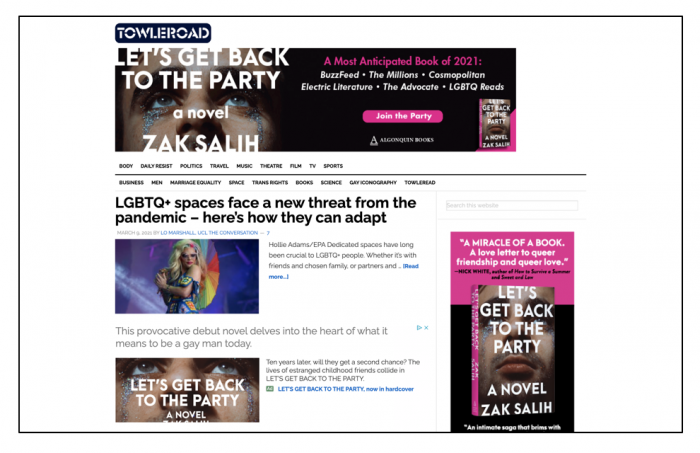 You gotta grab your copy of Let's Get Back to the Party ASAP – you can find it here! And if you're ready for your next campaign, you can find me at marybeth@adbiblio.com!