It's time to take a seat on a comfy couch, reach for some tissues, and dive into Maybe You Should Talk to Someone: A Therapist, Her Therapist, and Our Lives Revealed. The Instant New York Times bestseller, written by Lori Gottlieb, takes us behind the scenes of what it's like to be both the therapist and the patient. We were thrilled to help Houghton Mifflin Harcourt reach readers for this one of a kind memoir!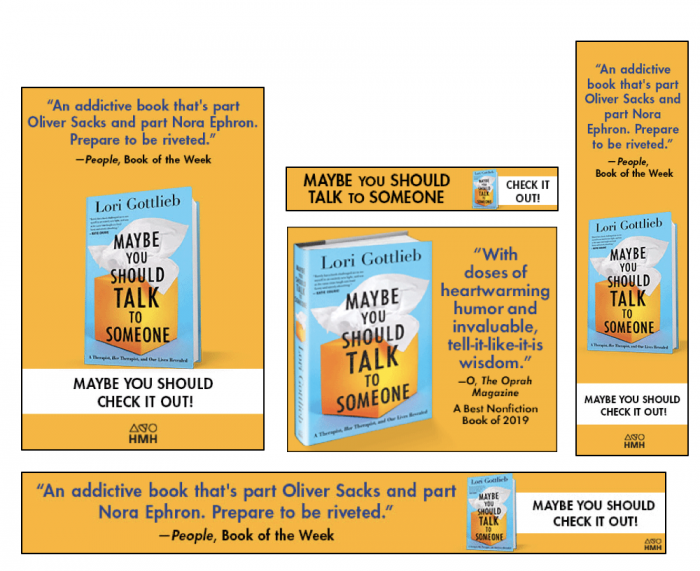 In Maybe You Should Talk to Someone, Gottlieb details her days as a LA therapist, talking to patients ranging from a self-absorbed Hollywood producer to a young newlywed diagnosed with a terminal illness. When she starts dealing with her own issues, she decides that maybe it's time she talks to someone. It's a hilarious, heartbreaking and revealing book about what it means to be human. Kirkus calls it, "An irresistibly addictive tour of the human condition." And Katie Couric (might have heard of her), says "Rarely have I read a book that challenged me to see myself in an entirely new light, and was at the same time laugh-out-loud funny and utterly absorbing." AND the book is being developed as a television series with Eva Longoria and ABC!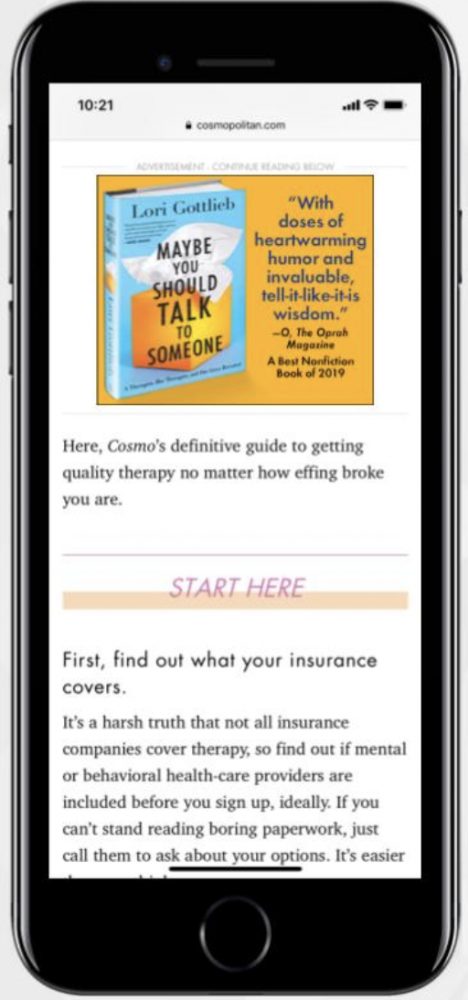 The foundation of this campaign was reaching women who are avid readers and book buyers. On top of this, we layered in traits and behaviors like book club members, memoir readers, self-help and inspiration seekers, those who search for NY Times bestselling books, and NPR listeners. The book was already off to a strong start with reviews, and we wanted to keep the momentum going – so we included keywords like bestselling books, Amazon Best Book of the Month, Oprah's Book Club, Most Anticipated Books of 2019, and targeted fans of authors like Tara Westover, Amy Dickinson, Susan Cain, and Brené Brown. HMH also wanted to reach Costco shoppers, so we used our proximity targeting to serve the ads to women who are self-help readers, book club members, etc. who were currently and/or recently shopping inside Costco!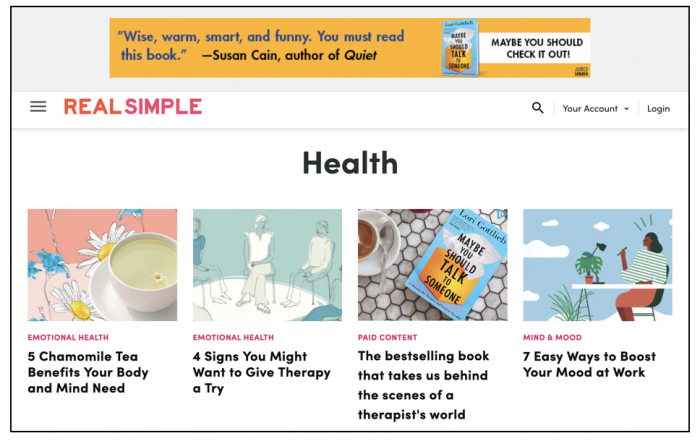 The campaign included our classic combination of native, banner and proximity ads, with the native and banner mix finishing at a super strong .33% and proximity (Costco shoppers!) at a .20% CTR. The ads deeply resonated with self help and inspiration readers (.60% ), as well as people who take self-improvement courses (.70%!!). It makes sense that those who are looking to better themselves were drawn to this book! Some of the top performing sites included NY Times (.27%), Bustle (.16%), HGTV (.11%), Scary Mommy (.15%), The Atlantic (.23%), and The Guardian (.26%).
If you're ready to have your heart broken and laugh out loud, maybe you should read this book. You can find a copy here! And if you've got a great nonfiction (or otherwise!) book in mind to promote, you know where to find me → marybeth@adbiblio.com. Happy reading!