There's something so special about reading a debut novel and discovering an author's unique voice for the first time. And sometimes, you're so blown away by the initial read that you realize you can't wait to see what else the author has in store! Such is the case with author Jamila Minnicks and her new novel, Moonrise over New Jessup. We were thrilled to help Algonquin Books reach literary enthusiasts everywhere to promote this powerhouse of a debut!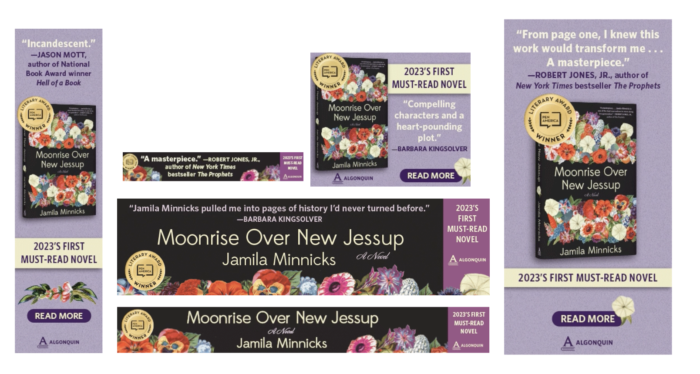 Winner of the 2021 PEN/Bellwether Prize for Socially Engaged Fiction, Moonrise Over New Jessup is "a thought-provoking and enchanting debut about a Black woman doing whatever it takes to protect all she loves at the beginning of the civil rights movement in Alabama." Sure to spark deep and thoughtful book club discussions, the novel is a perfect read for fans of authors like Brit Bennett and Robert Jones, Jr. In fact, Robert Jones, Jr. says "Read this book. Cherish it. Protect it. You must. Right out of the gate, Jamila Minnicks's Moonrise Over New Jessup is a masterpiece."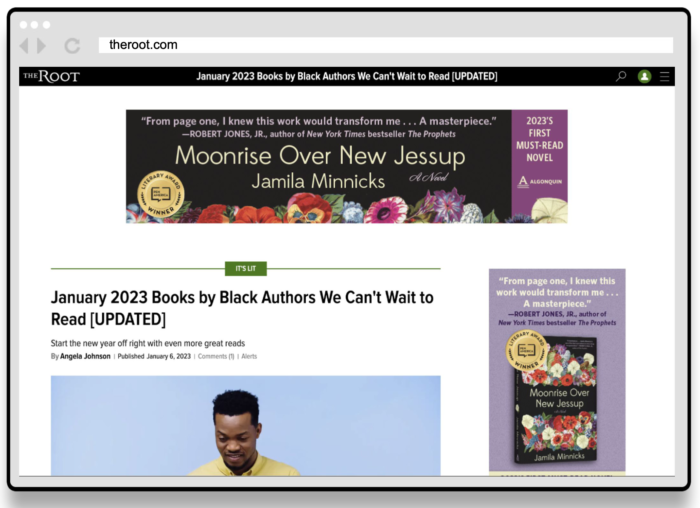 The campaign focused on people who are most likely to love this novel – avid fiction, historical fiction, and literary fiction readers, librarians, booksellers, literary influencers, book club members, and African American readers and book buyers. We also targeted readers interested in book subscriptions, amazon book buyers, fans of Oprah's Book Club, Goodreads users, book & lit app users, and more. Comps included popular authors like Brit Bennett, Honoree Fanonne Jeffers, Kaitlyn Greenidge, Hillary Jordan, Heidi W. Durrow, Robert Jones, Jr., Nathan Harris, and Lisa Williamson Rosenberg, and the ads ran alongside articles with keywords like PEN/Bellwether Prize, BIPOC fiction, most anticipated fiction, what to read next, #ownvoices, and literary fiction.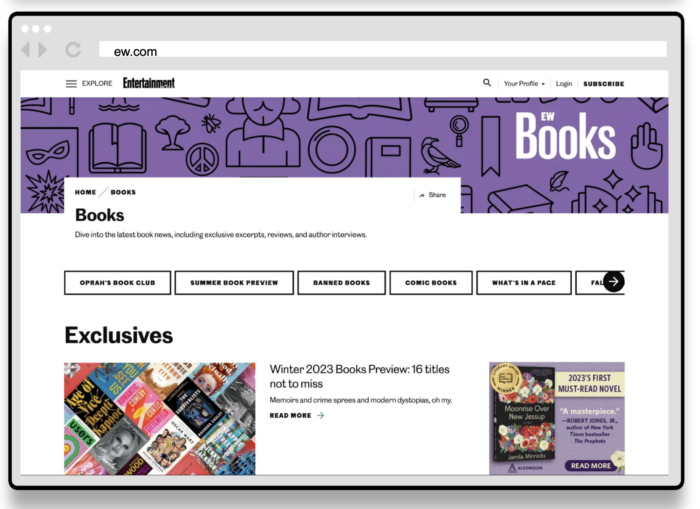 The campaign included our classic and premium banner ads, and finished at an overall CTR of .24%, with an IAR rate of 1.00% (IAR, or interaction rate, is an exciting new metric included on our final reports which quantifies the number of times a user hovers over the ad for a half a second or longer). The ads ran on top sites including The Root, E! Weekly, New Yorker, Essence, Ebony, NPR, NY Times, The Source, Oprah Daily, The Atlantic, Slate, Booklist Queen, and more. Star performers included bestselling book buyers (.48% CTR), fiction book buyers (.42% CTR), fans of Oprah's Book Club (.37% CTR), literary fiction readers (.34% CTR), book and lit app users (.32% CTR), and our AdBiblio read alike audience (.32% CTR).
If you're looking for a beautiful debut to devour in a single setting, then look no further than Moonrise over New Jessup. You can pick up your copy here! And if you're ready to discuss your next literary ad campaign, you can shoot me an email at marybeth@adbiblio.com.