Algonquin Books is known for their smart literary reads, and they continue to be a driving force of their slogan, "Books for a Well-Read Life"! This past August, they reached out to us for help in promoting several fiction and memoir titles for their Summer 2020 with Algonquin Books campaign – and we were so happy to help make this happen! In a two part series, I'll be highlighting how we reached niche avid readers over two campaigns to promote so many of their wonderful titles (we love giving multiple books some love!).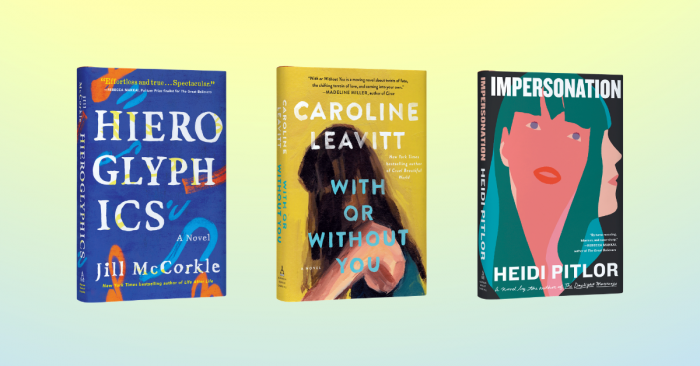 For the first August campaign, Algonquin focused on fiction enthusiasts, featuring three powerhouse novels that are all impossible to put down. Heiroglyphics by Jill McCorkle is a 'mesmerizing novel about the burden of secrets carried across generations'. With or Without You by Caroline Leavitt is an incredibly moving novel, which People calls "an irresistible portrait of midlife ennui and the magic of breaking free." And finally – Impersonation by Heidi Pitlor was an August read that 'tells a timely, insightful, and bitingly funny story of ambition, motherhood, and class.'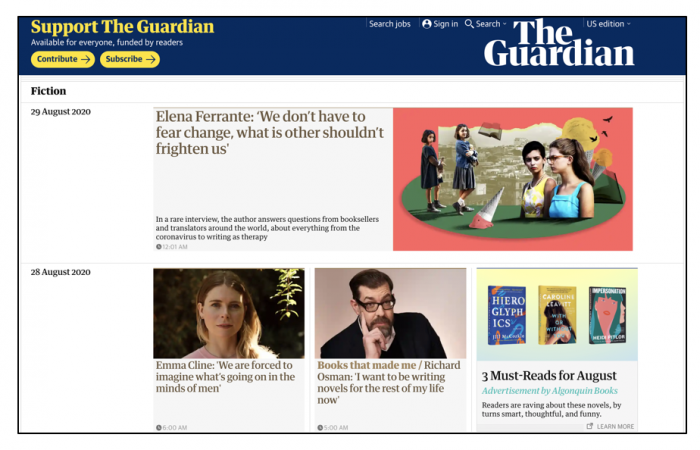 Avid fiction readers and book buyers were the base of our targeting, and top traits included bestselling fiction buyers, literary fiction readers, books and literature enthusiasts, novel readers, book club members, and NPR listeners. Comp authors included popular fiction writers like Bryn Greenwood, Celeste Ng, Anne Tyler, Kristin Hannah, Claire Messud, and Chloe Benjamin, as well as relevant keywords like summer reading, summer reads, best books for summer, book club guide, fiction bestsellers, and book club picks!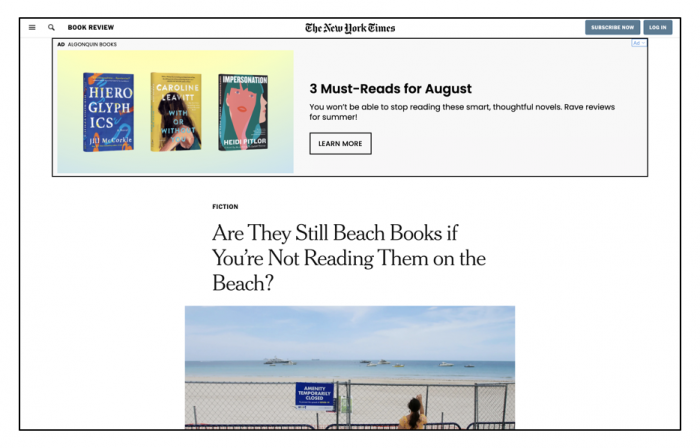 The campaign included our popular native ad, which was perfect for featuring each of three book covers with a headline of "3 Must Reads for August!" The ads finished overall at a .25% CTR, and did particularly well with bestselling book buyers (0.37% CTR), literary fiction fanatics (0.32% CTR), and avid fiction readers and book buyers (0.31% CTR)! The ads ran on top-tier sites like People, E! Weekly, Real Simple, Book Club Chat, Buzzfeed, Oprah Mag, USA today, Today, Bustle, and NY Times!
Looking for your next great fiction read? We'd highly recommend you get your hands on either Hieroglyphics, With or Without You, or Impersonation (or even better – get all three). And if you've got a campaign to launch, you know where to find me — marybeth@adbiblio.com.
Stay tuned for part II!