Introducing Erewhon Books!
Erewhon Books is a new independent publisher focusing on novel-length works of speculative fiction: science fiction, fantasy, and related genres. These books explore and investigate society, poke at social norms, and celebrate the unique, diverse, and underrepresented identities and communities of the world we live in, all through the lens of entertaining, thought-provoking, and risk-taking speculative fiction. We were so excited to help spread the word not only about Erewhon themselves, but their very first release – The Fortress by S.A. Jones.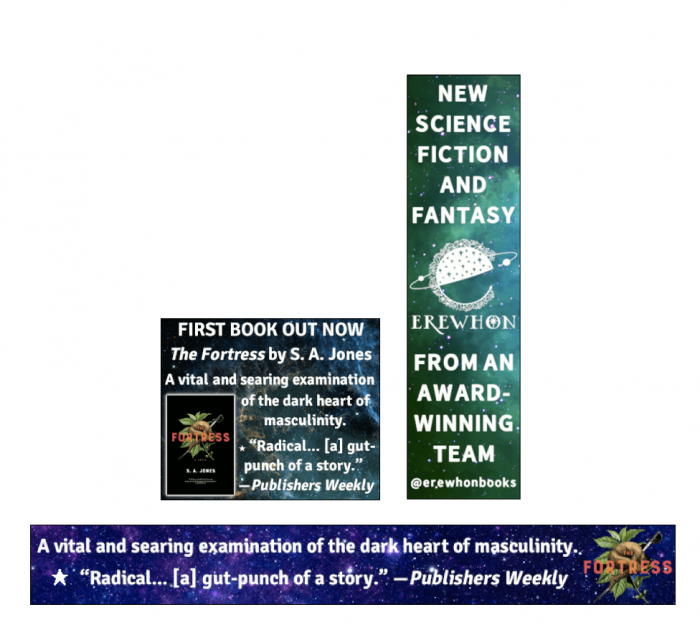 In The Fortress, Jonathan Bridge is a lawyer, soon to be dad, and husband (with plenty of young lovers on the side) living in a world much similar to ours. The only difference? The Fortress – a vast, self-sustaining city-state– exists on the other side, and is run and populated exclusively by women. With his marriage on the line, Jonathan soon finds himself as a volunteer supplicant at the Fortress. His arrival begins with strict conditions: He is forbidden to ask questions, to raise his hand in anger, and to refuse sex. It's no surprise Publishers Weekly calls The Fortress "Radical… [a] gut-punch of a story"!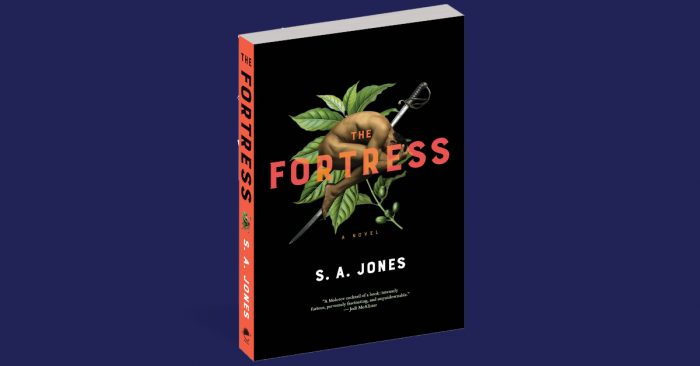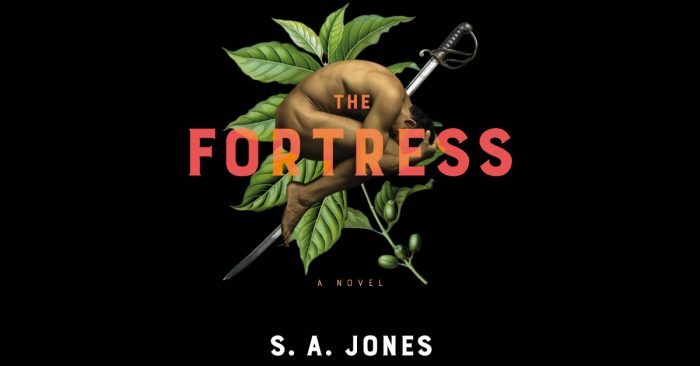 Erewhon Books appeals to both the growing science fiction and fantasy fan base and mainstream readers who like books with speculative elements. With the ads putting a strong focus on both introducing Erewhon as well as The Fortress, the core targeting of the campaign was avid readers and book buyers with a strong emphasis on Science Fiction and Fantasy. Comp authors included well known names like Maggie Stiefvater, Leigh Bardugo, Blake Crouch, Jeff VanderMeer, and Emily St. John Mandel. Keywords included phrases like most anticipated science fiction, science fiction and fantasy books, fantasy reader, Hugo Award, Nebula Award, and new fiction releases.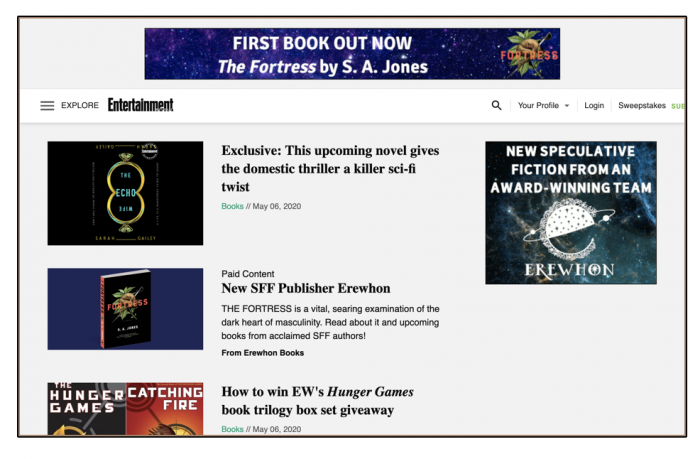 The campaign included a mix of our native and banners and ran on top sites including E! Weekly, Vox, Salon, NY Times, The Mary Sue, and Deadline, as well as top LGBTQ sites like Advocate, Out, LGBTQ Nation, and Pink News (several of their releases have strong queer themes, such as The Scapegracers and The Nightland Express). Finishing at an overall CTR of .26% CTR, the ads did particularly well with online book buyers (0.35% CTR), Sci-Fi / fantasy readers and book buyers (0.33%), and avid readers and book buyers (0.27%)!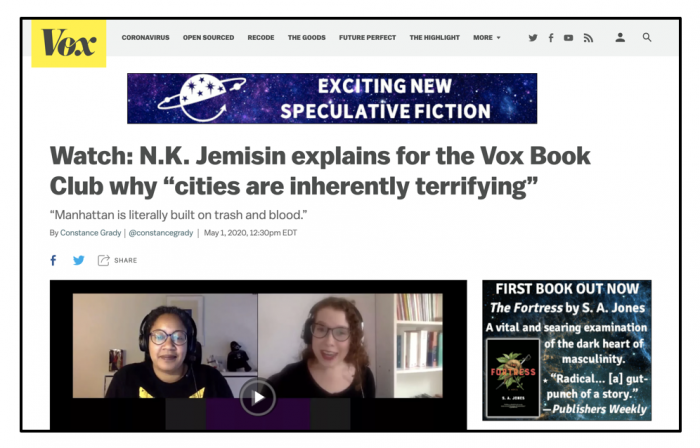 In addition to The Fortress, Erewhon Books has an amazing array of works coming out this Fall and Winter that you have to check out! And if you're ready to launch a new campaign, you know where to find me → marybeth@adbiblio.com.