There's the stories we tell ourselves, and then there's the truth. And sometimes they aren't one and the same. This is exactly what award winning author Stacey D'Erasmo's examines in her newest novel, The Complicities. We were thrilled to help Algonquin spread the word about this haunting and compelling story that's a perfect pick for book clubs!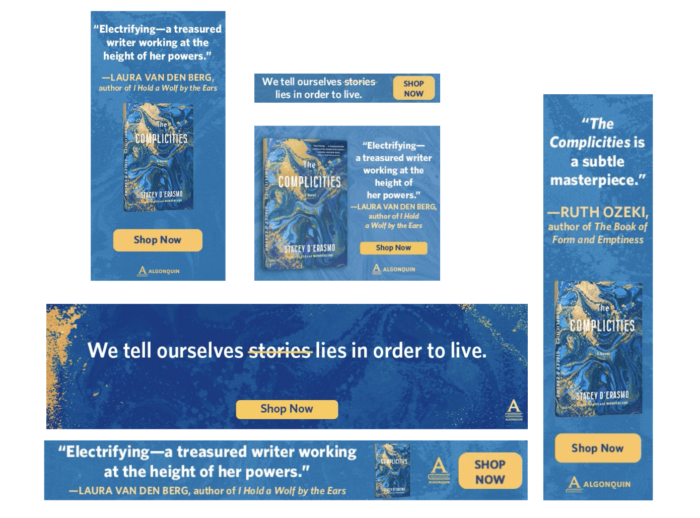 I could break down the summary of The Complicities, but Ruth Ozeki, author of The Book of Form and Emptiness, gives one heck of a testimony:
"The Complicities is a subtle masterpiece. Imagine a voice—lyrical and low, intimate and insistent—whispering in your ear. Half-told truths simmer below the surface, like the uneasy murmuring of a conscience. Mesmerized, you listen. There is menace here in D'Erasmo's disquieted world, and terrible beauty, too. Things are not what they appear to be. We are not who we think we are, either, and yet we are complicit."
It's best to grab your own copy and see for yourself!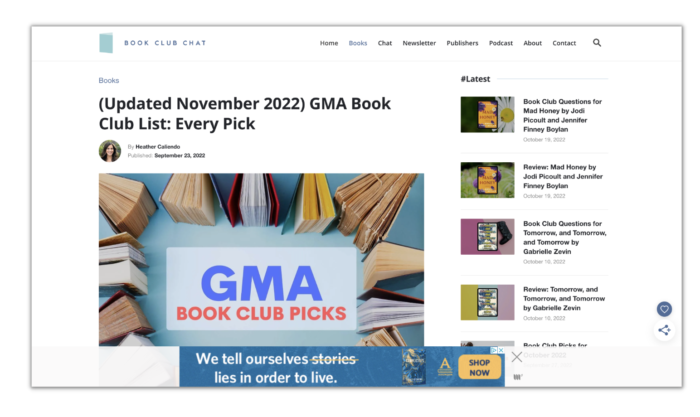 The base of the campaign targeted literary fiction readers, fiction book buyers, librarians, and booksellers. On top of this, we added in bookish traits and behaviors like book club members, literary influencers, arts & lit enthusiasts, fans of Oprah's book club, Goodreads users, books and lit app users, those with a strong interest in book subscriptions, and bestselling book buyers. Comps included popular authors like Emily St. John Mandel, Ruth Ozeki, Samantha Hunt, Maggie Shipstead, Gillian McAllister, and Jennifer Egan. Keywords included terms and phrases like women's fiction, must-read fiction, most anticipated books, book club guide, Read with Jenna, divorce fiction, best books of 2022, and more!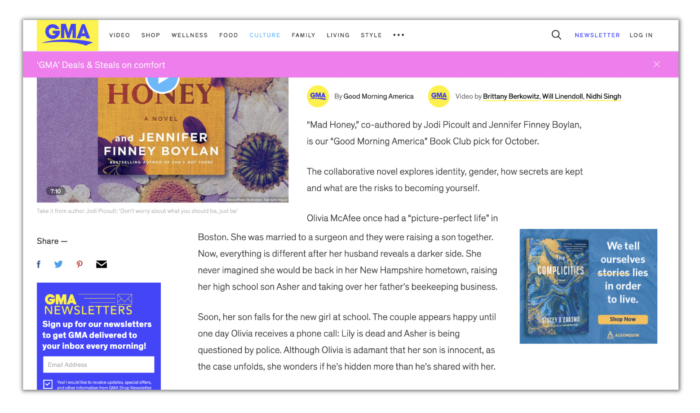 The campaign included our classic and premium banners and ran on sites including Book Club Chat, Books & Bao, NY Times, She Knows, Good Morning America, LA Times, Parade, Huffington Post, & more. The campaign finished at a .34% CTR and resonated strongly with those interested in book subscriptions (.62% CTR!), our AdBiblio fiction read alike audience (.60% CTR), and librarians and booksellers (.50% CTR!).
The Complicities is the perfect addition to your book club, or even just a great book to read curled up on the couch– you can grab your copy here! And if you're ready for your next campaign, let's chat! You can find me at marybeth@adbiblio.com.