If there's one thing I can truly appreciate, it's a kick-ass female lead in a fantasy series. Katniss Everdeen. Zélie Adebola. Feyre Archeron. Just to name a few. And now I've got a new one to add to the list: Winnie Wednesday from The Luminaries! We were thrilled to help Tor Books promote this heart-pounding fantasy from bestselling author Susan Dennard.
An Instant NY Times bestseller, Indie Next Pick, and much more, The Luminaries "will draw you in and leave you begging for more." (Leigh Bardugo). "Winnie Wednesday wants nothing more than to join the Luminaries, the ancient order that protects Winnie's town—and the rest of humanity—from the monsters and nightmares that rise in the forest of Hemlock Falls every night." But what lies within the forest is more terrifying than Winnie can ever imagine. With a tagline like #huntorbehunted, you know you're in for an adventure full of twists, turns, and of course – romance too! (Did I mention resident bad boy Jay Friday?). You'll easily devour it in one or two sittings.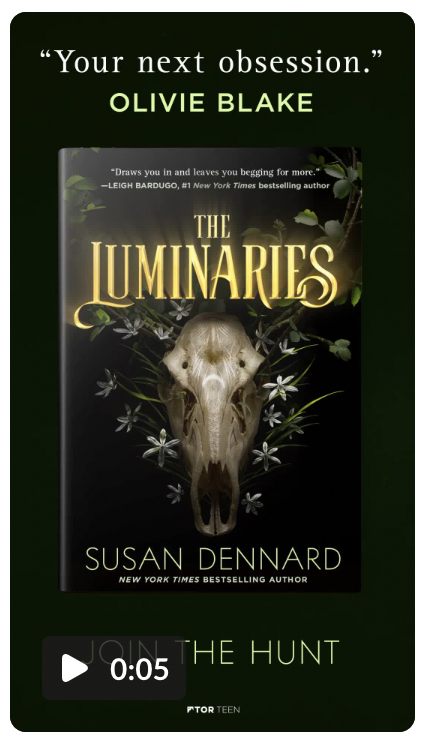 The base of the campaign targeted YA readers and book buyers, teens and high school students, and avid fantasy readers, with traits and behaviors like fantasy and folklore enthusiasts, TikTok / BookTok users, teen and holiday gift shoppers, amazon book buyers, teen TV and movie viewers, and much more. Comps included popular fantasy authors like Adrienne Young, Tricia Levenseller, Amanda Foody, Leigh Bardugo, Marie Lu, Alexandra Bracken, and Marissa Meyer, as well as fans of media like Shadow and Bone, Legacies, Shadowhunters, Buffy the Vampire Slayer, and Stranger Things. Keywords included terms and phrases like must read, fantasy bestsellers, fantasy novels, bestselling fantasy, best fantasy books of 2022, teen gift guide, #booktok, #HuntOrBeHunted, etc.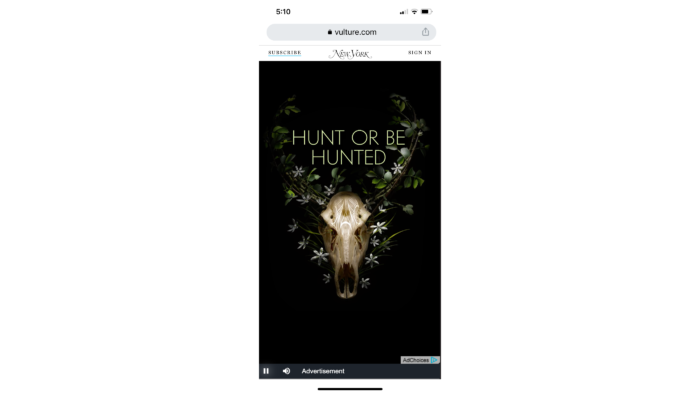 The campaign included mobile preroll, finished at a .82% CTR, and ran on sites including Geek Tyrant, Vulture, Buzzfeed, People, USA Today, The Uncorked Librarian, Modern Teen, Variety, Buzzfeed, Books and Bao, and more! We were blown away by how well the ads did with teens and high school students (1.96% CTR!), as well as with those who watch teen TV shows and movies (1.82% CTR), and fantasy readers (1.72% CTR).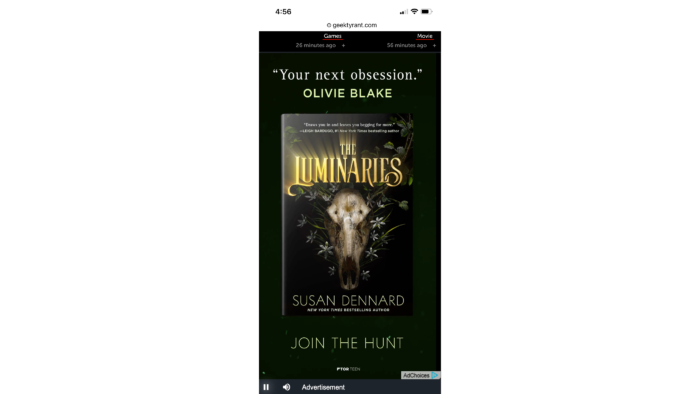 The Luminaries truly does live up to the hype, and Hemlock Falls is a place you soon won't forget. You can find your copy here. And if you're ready for your next campaign, you know where to find me — marybeth@adbiblio.com.