Here at AdBiblio, we truly believe books have the power to change the world. Kim Jiyoung, Born 1982 by Cho Nam-Joo is definitely no exception. This fierce international bestseller launched Korea's new feminist movement and over a million copies have been sold in nineteen countries. We were thrilled to help W.W. Norton spread the word about this powerhouse novel.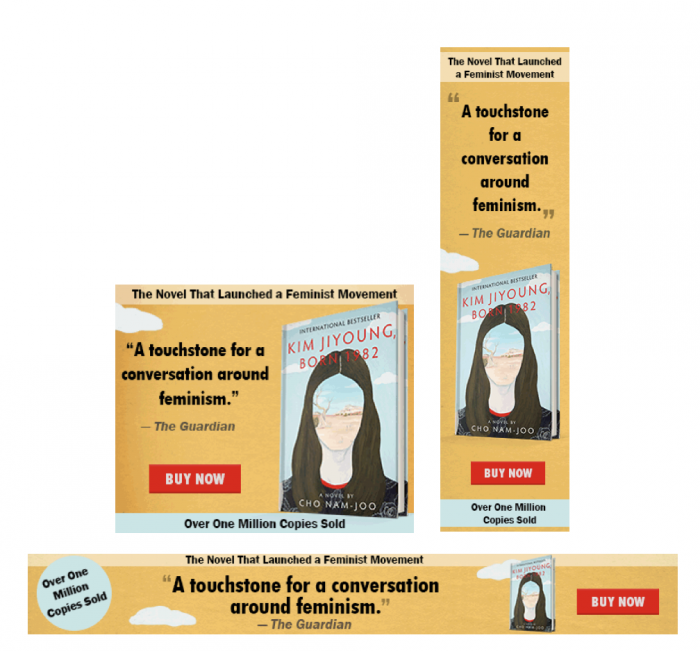 A New York Times Editors Choice Selection, Kim Jiyoung, 1982 follows a young woman's mental deterioration in the face of rigid misogyny. As she plunges deeper into psychosis, she begins recounting her entire life from childhood to motherhood – a narrative infused with disparate elements of frustration, perseverance, and submission. Set in the backdrop of an advancing Korea and interlaced with the #metoo movement, Kim Jiyoung, 1982 is a timely novel that you'll devour in one sitting.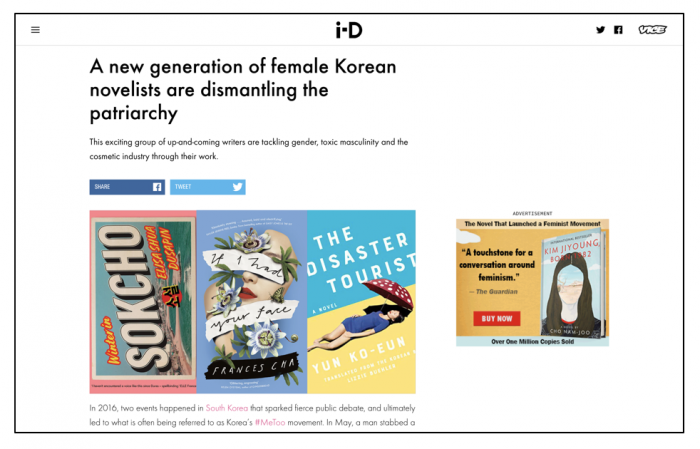 The core of the campaign included women ages 25 – 34, literary fiction readers, and feminist readers. On top of this, we included a test demo of Korean American readers, as well as a niche geo-target group towards readers in states like California and New York. Additional traits included those with a strong interest in Korean culture, sociology and gender studies. We also reached bestselling book buyers, novel readers, and those with a higher education and income of $50K+. Comp authors included diverse authors like Han Kang, Ling Ma, Cathy Park Hong, and Frances Cha, and keywords included relevant phrases like feminist novel(s), Korean author(s), for feminists, #metoo, and award winning novels.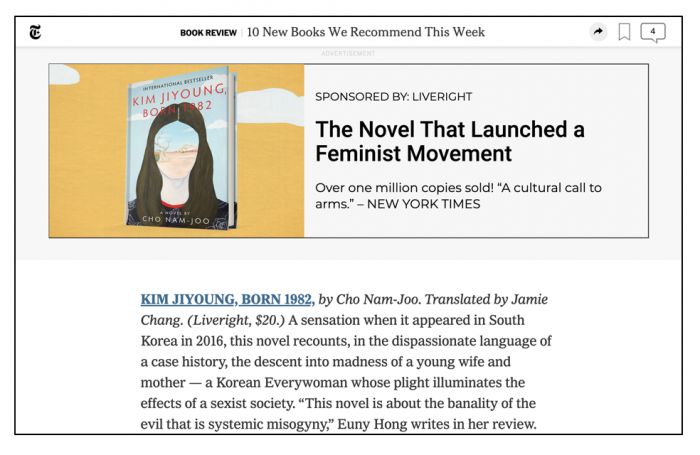 The campaign included a mix of our native and banner ads, and ran on top literary, feminist, and culture sites including NY Times, Vice, Man Repeller, Bustle, The Guardian, The Cut, Refinery29, Vanity Fair, Elite Daily, Jezebel, and more. Finishing at an overall CTR of .26% CTR, the ads did particularly well with those with a strong interest in Korean culture (0.34% CTR), literary fiction fanatics (0.33% CTR), and Korean readers and book buyers (.27% CTR)!
If you're ready to read the novel that launched a feminist movement, you can pick up your copy of Kim Jiyoung, Born 1982 here. And you know where to find me for your next campaign – marybeth@adbiblio.com!