Welcome to part two! Last week we shared how we helped find the perfect audience for My Name is Lucy Barton! This week, we're switching things over to the wonderful world of YA. Using our niche targeting, we helped PRH Audio reach parents of teens, LGBTQ readers and more for the audiobook The Gravity of Us by Phil Stamper.
It's hard to believe The Gravity of Us is Stamper's debut novel. Perfectly capturing the thrill of first love, the book follows two teen boys who strike up a romance when their parents' NASA mission uproots their lives. Bestselling author Becky Albertalli says "Phil Stamper's The Gravity of Us is the first love, first launch, astronaut story I didn't know I needed. I'm so starry-eyed for this wise, romantic gem of a book."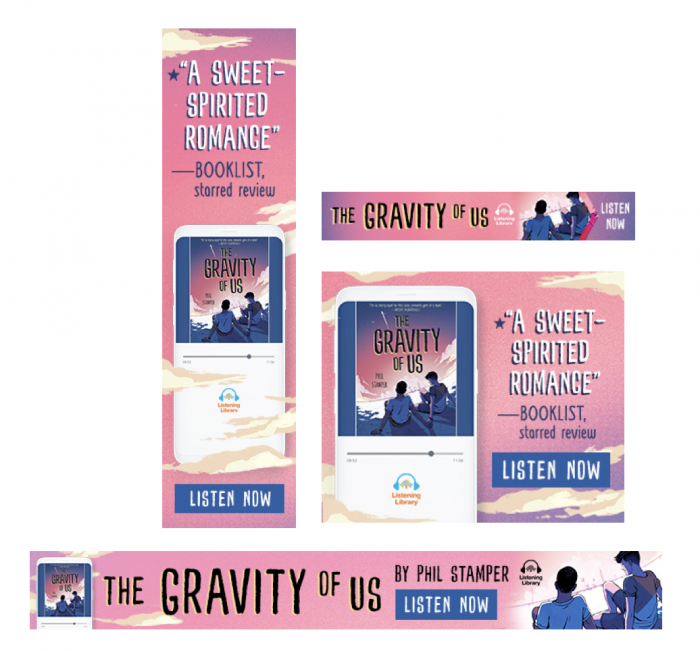 Our base targeting included YA readers, parents of teens, and Librarians who are audiobook buyers and Audible listeners. On top of this, we layered in traits like those with a strong interest in teen lifestyle content, coming of age fiction readers, teen gift shoppers, and teen TV viewers. And since the book is a queer love story, we also included LGBTQ+ advocates, sites like LGBTQ Reads and Out, and keywords like queer teen romance, LGBT YA, LGBT audiobooks, queer YA, and queer romance. Comps included authors like Lauren Shippen, Adam Silvera, Bill Konigsberg, and Rainbow Rowell, as well as other relevant keywords like audiobooks for teens and teen gift guide, and sites like Hello Giggles, Teen Vogue, POP Sugar, Seventeen, The CW, Freeform, Bookstacked, and Wattpad.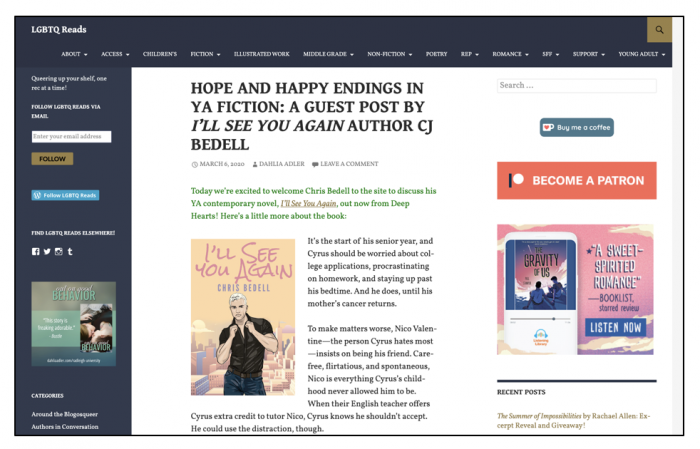 The campaign included our classic mix of native / banners and finished overall at a .19% CTR. The ads did particularly well with Librarians (.42%!!), frequent audiobook buyers (.33%), parents of teens (.32%), and tween gift shoppers (.23%). Keywords like LGBT YA and queer teen romance also played a big role in engagement (.29% CTR) and tablet outperformed all other devices, finishing at a .24% CTR vs .19% on mobile and .18% CTR on desktop. The ads especially resonated with audiobook fans on top-tier whitelisted sites like NY Times, Bookstr, Goodreads and Buzzfeed, finishing at a .21% CTR!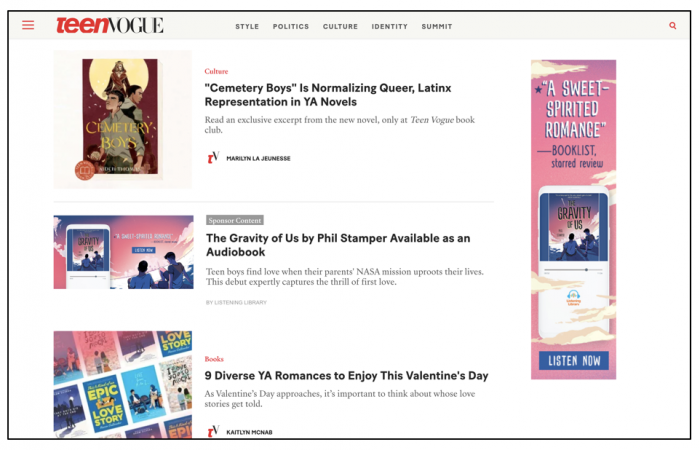 If you're ready to listen to an adorable YA love story, you can find The Gravity of Us audiobook here. And if you've got a campaign to launch, you know where to find me — marybeth@adbiblio.com.

Stay safe and healthy out there!