I, like so many, am a complete sucker for a WWII era book. Every story of bravery and courage, especially when deeply researched and based on real historical events, is a harrowing yet uplifting reminder of the extraordinary heroes that have come before us. NY Times bestselling author Sharon Cameron is fantastic at writing such stories, like in her YA novels The Light in Hidden Places and Bluebird. We loved helping Scholastic use targeted book advertising to spread the word about these inspiring reads!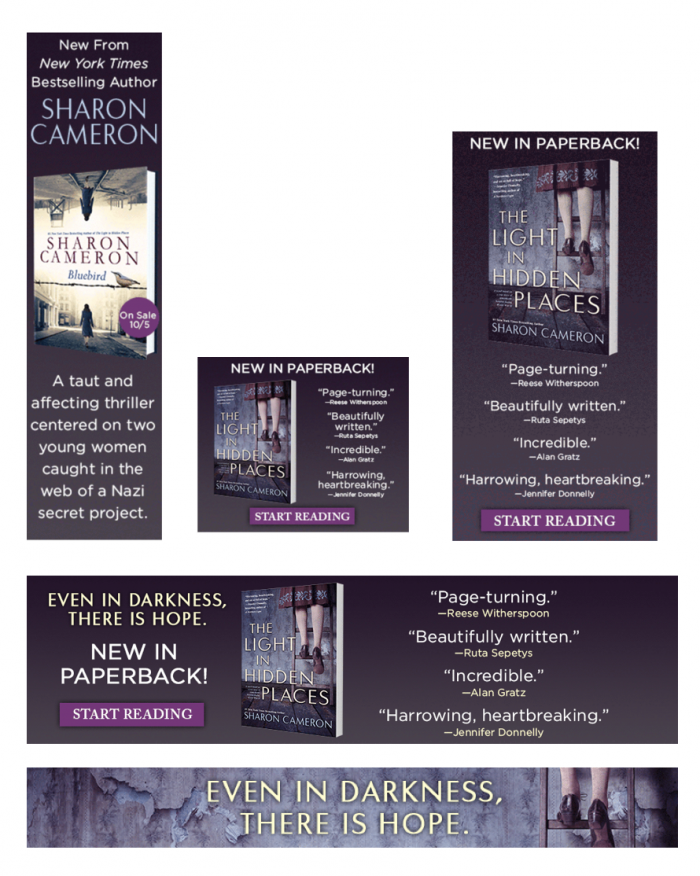 Now available in paperback and a Reese's Book Club YA pick, The Light in Hidden Places tells the true story of Stefania Podgórska, a Polish teenager who hid thirteen Jews in her attic during WWII. There's even praise from Podgórska's son, Ed Burzminski, who says the novel "weaves together the lightheartedness, sheer terror, and incredible inner strength of this young woman, my mom. This book exceeds all my expectations."
And Cameron's newest release, Bluebird, is a gripping tale of revenge, romance and intrigue in the aftermath of WWII. School Library Journal calls it "another outstanding historical novel. Clearly meticulously researched but deeply engaging and immersive, the narrative seamlessly blends fictional characters and events with real people and places."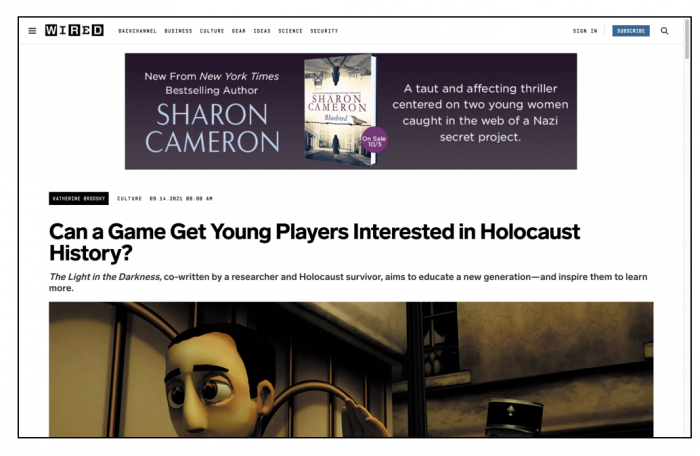 The base of this campaign targeted YA readers and book buyers, parents of teens, librarians / school librarians, and high school educators – with traits and behaviors like fiction readers and book buyers, book club members, documentary viewers, history enthusiasts, NPR listeners, and those with a strong interest in historical fiction. Comps included popular historical fiction authors like Markus Zusak, Monica Hesse, Ruta Sepetys, Elizabeth Wein, and Kristin Hannah. Keywords included phrases like YA books, YA historical fiction, YA books about WWII, books about WWII, historical fiction for teens, book club guide, and more!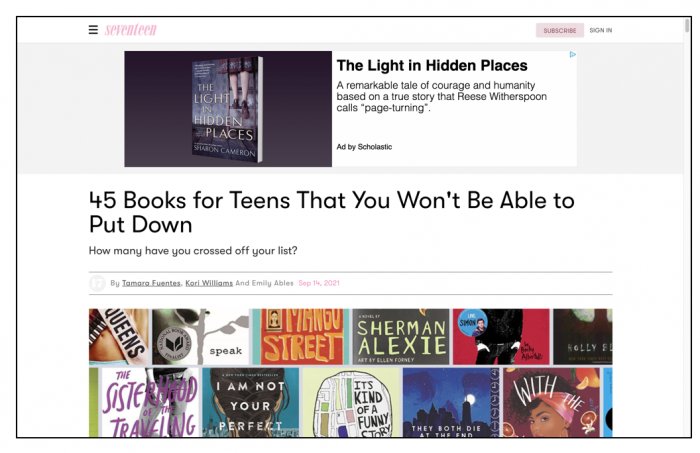 The campaign included our classic mix of native and premium banner ads, and finished at a .27% CTR. The ads ran on top sites including Seventeen, Wired, Teen Vogue, Modern Teen, Pop Sugar, Buzzfeed, History, and more, and performed best with our AdBiblio read alike audience (0.39% CTR), high school educators (0.31% CTR), and book club members (0.28% CTR)!
The Light in Hidden Places and Bluebird are the perfect holiday gifts for the historical reader on your list. You can pick up The Light in Hidden Places here, and Bluebird here! And if you've got a book you're hoping to advertise, reach out at any time! You can find me at marybeth@adbiblio.com.
Want to read more? Check out more book advertising case studies here!