Summer is nearly here and I can't wait to be near water again. I love everything about it – swimming laps, jumping into the ocean, kayaking down rivers – you name it! (except lakes. there's just something about swimming in lakes that creeps me out!). Author Bonnie Tsui points out that humans, unlike other animals that are drawn to water, are not natural-born swimmers. We must be taught. Why? And why do we love it so much? Her new book, Why We Swim, takes a deep dive into this and so much more. We were thrilled to help Algonquin Books promote this unforgettable "love letter to water."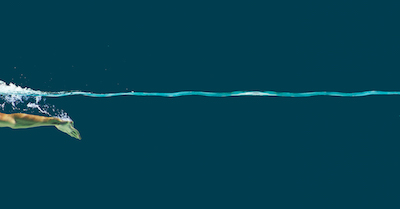 Why We Swim is an incredibly fascinating and beautiful perspective not only on water and swimming, but on human behavior itself. From the San Francisco Bay to the South China Sea, Bonnie Tsui – a swimmer herself – investigates what about water—despite its dangers—seduces us and why we come back to it again and again. Rebecca Skloot, the bestselling author of The Immortal Life of Henrietta Lacks, calls it "A fascinating and beautifully written love letter to water. I was enchanted by this book." And she's not the only one captivated. Why We Swim has been named A Best Book of the Season by BuzzFeed, Bustle, and The San Francisco Chronicle!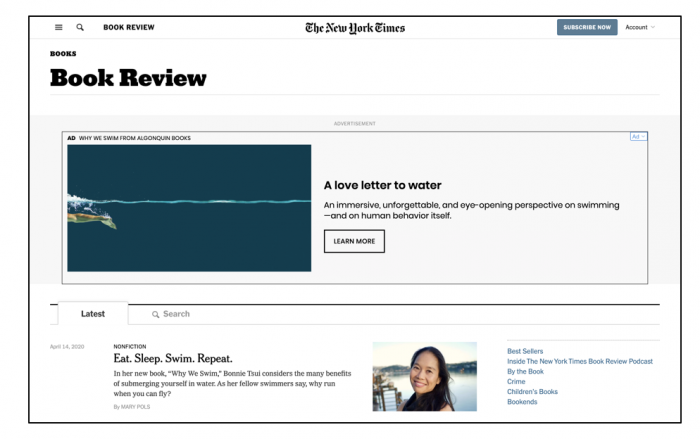 The core of our targeting included nonfiction readers and book buyers. And while the book has wide appeal, we made sure to layer in niche traits that would really speak to the book's subject, like swimming enthusiasts, Olympic swimming interests, aquatic sports and activities fans, nature and outdoor enthusiasts, Discovery Channel viewers, and documentary viewers. Comps included relevant nonfiction nature writers like Christopher McDougall, Susan Casey, and Robert McFarlane, as well as memoir authors popular in the swimming world like Lynne Cox and Michael Phelps. We also included two distinct sets of keywords – one featuring swim related terms like books for swimmers, swimmer's gift guide, and swim coaching, and one geared towards general nonfiction readers like nonfiction picks, sports books, and best nonfiction books of 2020.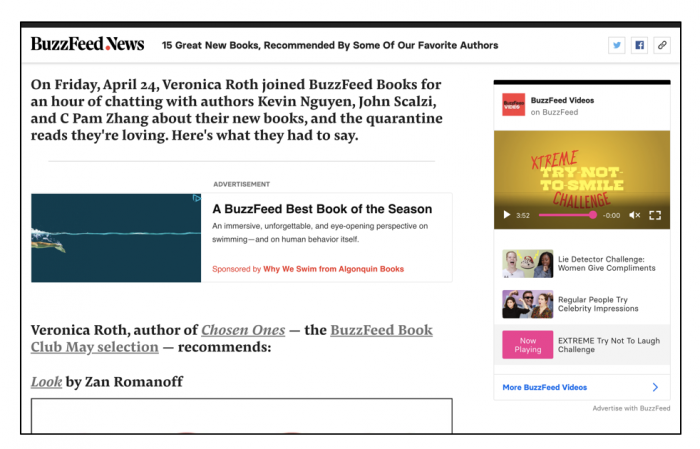 Featuring our native ad, the campaign finished at a very strong .58% CTR and ran across top sites including NY Times, Buzzfeed, Swimming Science, Bustle, Live Science, Discovery, and Washington Post. We knew swimming buffs would be drawn to Tsui's book, but we had no idea just how strong the appeal would be! The ads did extremely well with swimming enthusiasts (.50% CTR), Olympic Swimming interests (.67% CTR), and diving enthusiasts (2.5% CTR! whoa!). It also resonated strongly with documentary viewers (.80% CTR), nonfiction readers (.38% CTR), and sports readers (.42% CTR). One thing we particularly loved about this ad was the non traditional use of a photo for the native image instead of the entire book cover. The wide shot of the swimmer paired with the copy really made the ad fit in swimmingly alongside the site content.
During this challenging time, many people are likely missing the opportunity to be near water– or are very anxious to get back to swimming. It's the perfect time to read Why We Swim. You can pick up a copy here! And if you have a niche book to promote, we're here to help. You can reach me at marybeth@adbiblio.com!