Several years ago my Dad got me into Foyle's War, and so began my slight obsession with British detectives. I've watch them all: Broadchurch, Luther, Sherlock, and even dabbled in Midsomer Murders (google it.) So, I was thrilled when Soho Press came to us for help in spreading the word about British mystery and thriller novelist Mick Herron. He's gaining popularity here in the States, and we loved helping promote Joe Country –the sixth book in his Slough House series!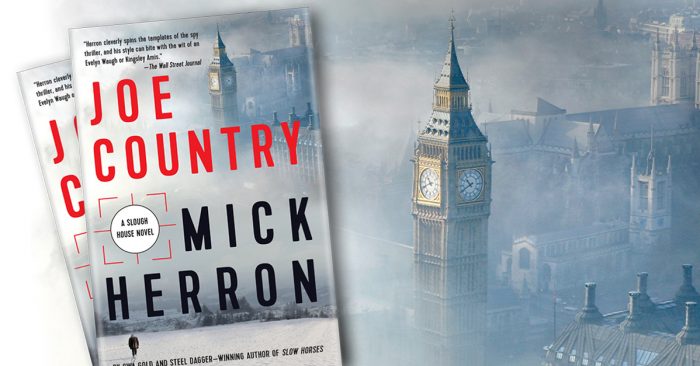 The Slough House series has received a ton of praise. The second novel in the series, Dead Lions, won the 2013 Gold Dagger award (fun fact: this award is given annually by the Crime Writers' Association of the United Kingdom since 1960 for the best crime novel of the year!) Joe Country is the sixth novel in the series, and continues to follow the misfit group of MI5 agents who will do anything to get back into the game. Adam Woog from The Seattle Times reviews the book as "John le Carré with an extra dose of dry humor." A perfect review since we included le Carre as a targeted comp author!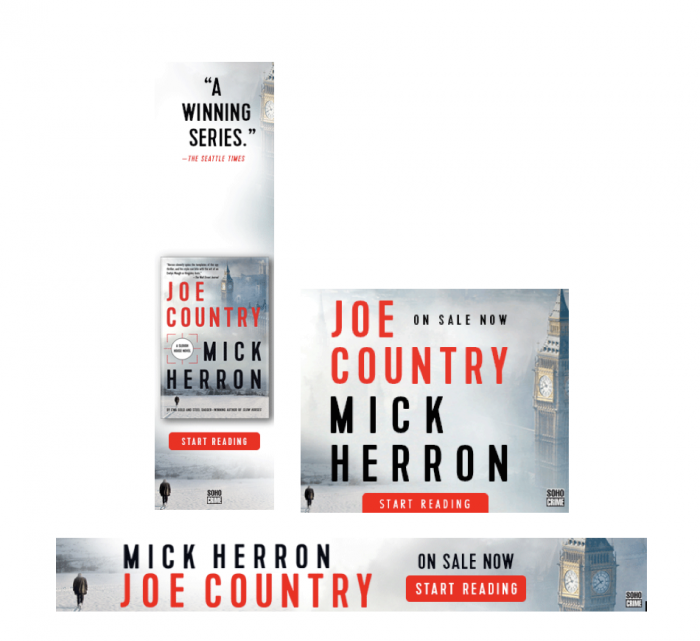 The core reach of the campaign aimed to reach mystery, thriller and suspense readers ages 40+. On top of this, we added in traits and behaviors including bestselling book buyers, NPR listeners, news and current events readers, and avid readers of The New York Times, New Yorker, The Washington Post, and Wall Street Journal (bonus: the ad ran on all of these sites!). Keywords also played a big role in this campaign, helping us serve the ad alongside content featuring terms and phrases like international spy novels, detective stories, British suspense novels, and reach those interested in authors like John le Carré , Philip Kerr, Len Deighton, and Daniel Silva.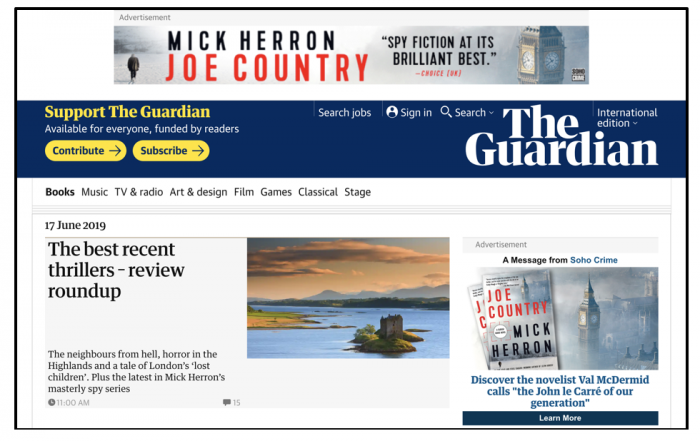 The campaign finished at a strong .19% CTR, and the ads ran on sites including The New York Times, The Guardian, The Atlantic, Wall Street Journal, Forbes, Huffington Post, New Yorker, The Washington Post, Rolling Stone, and BBC! Top traits included readers and subscribers of The New York Times (.37%), mystery readers (.43%), bestselling book buyers (.27%), and NPR listeners (.32%).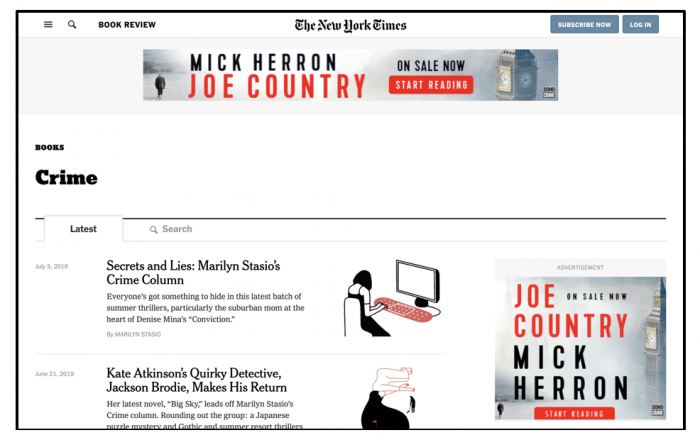 If you're looking for your next International crime mystery, you have to check the Slough House series. You can find Joe Country here, or if you're new to Herron, you can find the first novel in the series here! And if you've got a smart thriller to promote, you know where to find me → marybeth@adbiblio.com!