Whether it's multi-layered targeting, A/B testing, or proximity reach, we're always up to the challenge of a complex campaign! So when Kensington came to us with unique targeting for two of their titles, we were thrilled to help! Even more exciting, Kensington reported that book sales were strong while the campaign was running, and the sales momentum continued after the campaign finished! That's what we love to hear! Today we're going to share how we helped Kensington reach niche readers in select cities for Paranoid by Lisa Jackson. And stay tuned for part two next week where we share more about The Long Flight Home by Alan Hlad!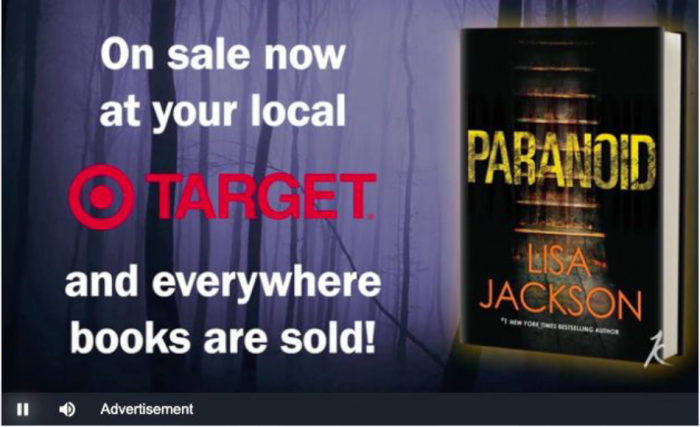 Here at AdBiblio, we've run our share of Lisa Jackson campaigns, and we're huge fans of her books! Paranoid is the newest thriller in her collection of more than 75 novels. A USA Today Bestseller and Bustle "Perfect Vacation Read!," the riveting page-turner tells the story of a woman who is haunted by guilt and realizes that nothing can be trusted – even her own memory. It's a "keep you up all night" kind of book!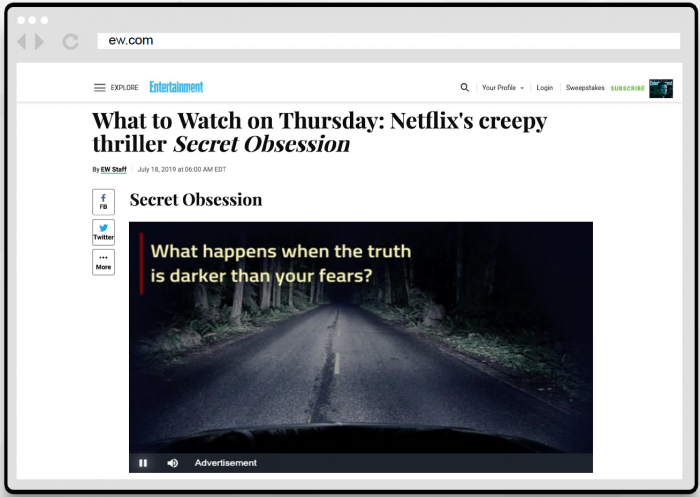 For Paranoid, Kensington requested reaching Mystery, Thriller and Suspense readers within a select list of 50 cities with top Target stores. In addition to narrowing the genre reach to these specific locations, we also added in other traits and behaviors like Target shoppers, thriller TV and movie viewers, bestselling fiction buyers, and online book buyers. Keywords included comp authors like Mary Kubica and Lisa Gardner, and podcasts like Dirty John and Dr. Death!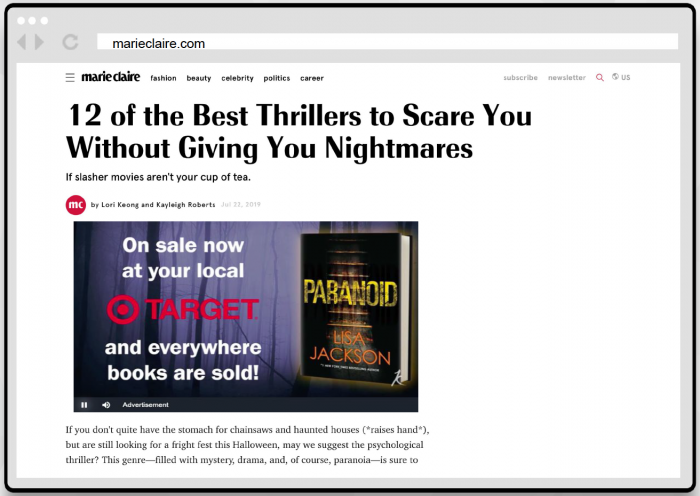 The campaign included both both Pre Roll and CTV video (more on CTV here!), and finished at an overall CTR of .48%! We loved that Kensington included a CTA at the end of the ad geared towards Target shoppers! The video ran on top-tier sites included Slate, Vox, Slate, Mashable, E! Weekly, Rolling Stone, Refinery 29, USA Today, and more. Top performing traits included bestseller readers (.52% CTR), horror TV and movie enthusiasts (.69% CTR), book club members (.29% CTR), True Crime enthusiasts (.68% CTR) and those who love crime movies (.85% CTR!).
Ready for your next thriller? You can pick up a copy of Paranoid here! And if you've got unique requests for a campaign, we're ready to help – you know where to find me: marybeth@adbiblio.com. Stay tuned for part 2 next week, where we share more about The Long Flight Home!