For so many of us, there really is something special about Grandmas. For me, it was spending hours in the kitchen making big Sunday dinners, and binge watching The Bold and the Beautiful (still true to this day!). Something about Grandma by Tania de Regil is a gorgeous picture book that celebrates that special bond between grandchild and grandmother. We loved helping Candlewick share this heartfelt book with the world, just in time for Grandparents' Day!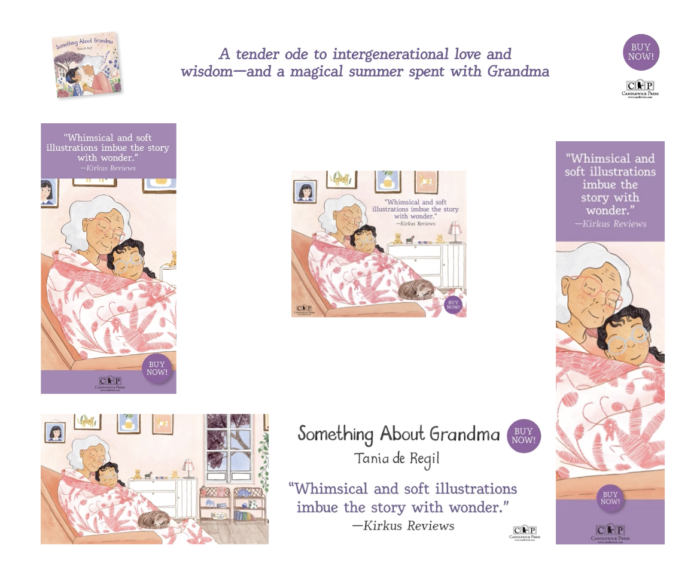 In Something about Grandma, a young girl named Julia spends the summer visiting her grandmother's house outside of Mexico. While she's there, she discovers just how magical her grandmother is in her own special way, and together they form a bond that will last a lifetime. Book Riot says, "This tender intergenerational picture book, which also explores traveling, is beautifully illustrated in soft pastel hues. The entire book is like a big, much-needed hug." And to add to the genuine feel of the story, the author incorporated poems by her own great grandfather that were handwritten by her grandmother. An extra special touch!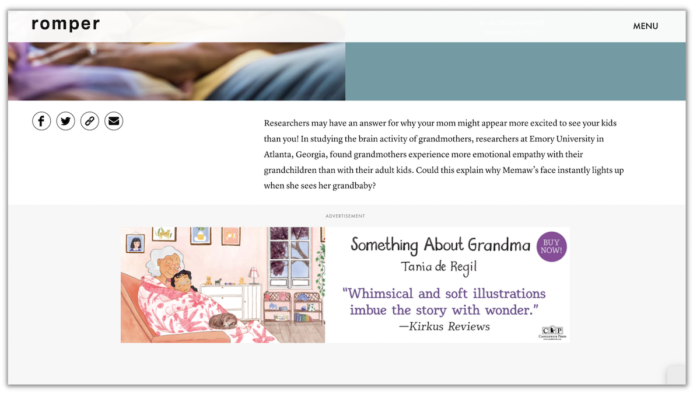 The base of the campaign targeted parents of children ages 4-8, grandparents, and Mexican American, Mexican, or Latinx parents of children ages 4-8 and grandparents. Traits and behaviors included avid children's book buyers, children's gift shoppers, picture book buyers, children's educational product shoppers, bestselling book buyers and more! Comps included authors like Anna Dewdney and Janay Brown Wood, and popular Latinx titles like Mango, Abuela & Me by Meg Medina, Between Us and Abuela by Mitali Perkins, and Where Are You From? by Yamile Saied Mende. Keywords included terms and phrases like Grandparents' Day, gifts for Grandparents' Day, Grandparents' Day gifts, children's books about grandparents, Latinx children's books, Hispanic children's books, children's books by Latinx authors, and more!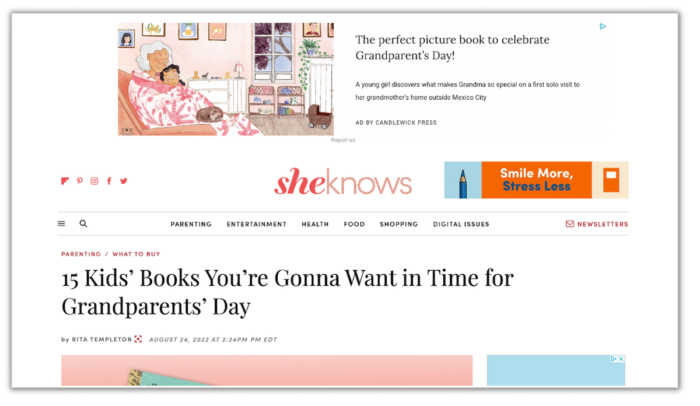 The campaign included a mix of our classic native and banner ads, and finished with a strong .25% CTR! The ads did best with avid children's book readers and buyers (.78% CTR), children's educational shoppers (.64% CTR), and children's family TV and movie viewers (.45% CTR), and ran across top tier sites including Mamas Latinas, This Grandma is Fun, Growing Book by Book, Parents, Romper, Hip Latina, Mitú, and more!
If you're looking for a special book to share between grandmother and grandchild, Something about Grandma is the perfect choice! You can find your copy here. And if you've got a unique picture book of your own, you know where to find me — marybeth@adbiblio.com.